This highly portable 14-inch mobile workstation impresses. Equipped with an Nvidia RTX A1000 GPU, it opens up possibilities beyond those of mainstream 3D CAD for this historically less popular form factor, writes Greg Corke
---
The 14-inch mobile workstation form factor has come and gone over the years. They've never been great sellers, partly because performance has significantly lagged behind their 15-inch counterparts. But with the Precision 5470, Dell is looking to change that.
With a choice of 45-watt 12th Gen Intel Core H-Series CPUs and the Nvidia RTX A1000 GPU, this workstation-class 14-inch laptop certainly stands out from the competition. The HP ZBook Firefly comes with the less powerful Nvidia RTX A500 GPU while the Lenovo ThinkPad P14s has the Nvidia T550, which does not have RTX acceleration. Both laptops are also limited to 28-watt 12th Gen Intel Core P-Series CPUs.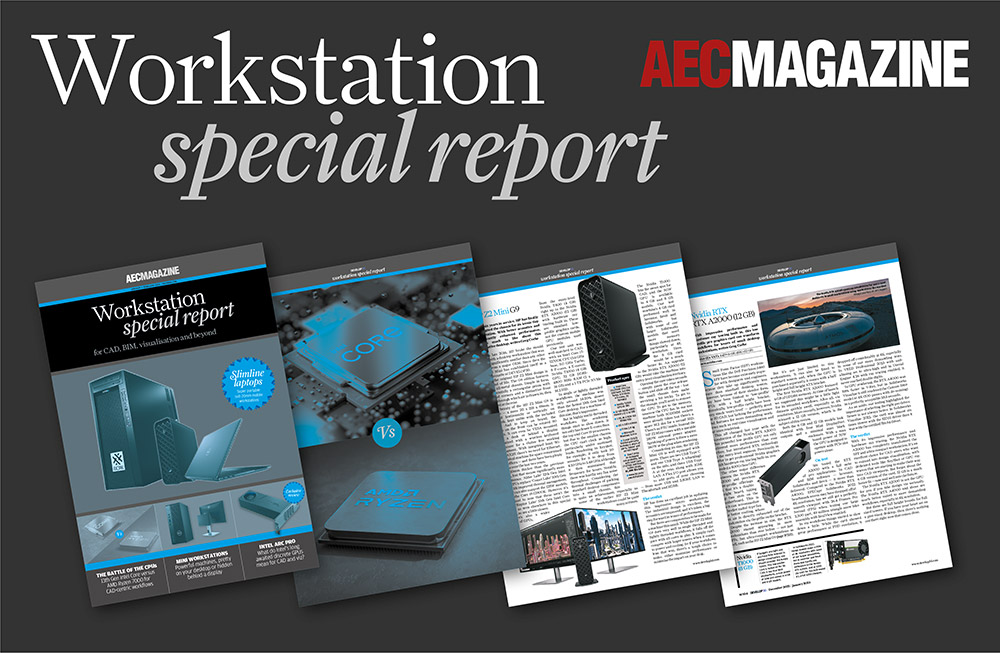 Having a higher wattage CPU shouldn't make a huge difference in single threaded workflows like CAD, where a single core can comfortably reach a high frequency without too much power. However, users may start to see real benefits in highly multi-threaded workflows like rendering. The top-end Intel Core i9-12900H should reach relatively high GHz across its 6 P-cores and 8 E-cores.
Our test machine came with the slightly lower spec Intel Core i9- 12800H. When rendering in KeyShot it maintained 2.5 GHz across all P-cores. And it managed to do this without making too much noise, even in Dell's 'Ultra Performance mode' where processor and cooling fan speed is increased for more performance. However, in Solidworks Visualize, when CPU and GPU can be hammered at the same time, CPU frequency dropped to 1.5 GHz and fan noise increased considerably. For a better balance of performance and noise choose the 'optimised' setting in Dell's Power Manager where frequency drops to 1.3 GHz. The 'Quiet' setting takes this even lower, to 0.9 GHz. Tuning down the CPU in this way should also extend battery life when not plugged in.
For graphics, the Nvidia RTX A1000 (4 GB) GPU easily delivers for 3D CAD and BIM, in applications like Revit and Inventor, but it also offers enough performance for entrylevel visualisation at FHD+ (1,920 x 1,200) resolution. With a small to medium sized BIM model in Enscape, the 50 Frames Per Second (FPS) we got is perfectly acceptable.
But don't expect miracles. With 4 GB of GPU memory, it simply won't cope with larger viz datasets. And, despite having RT cores for ray tracing and Tensor cores for deep learning, expect renders in RTX-enabled applications like KeyShot, Solidworks Visualize and V-Ray to take about twice as long as a desktop Nvidia RTX A2000.
Our test machine came with 32 GB of memory, a good amount for mainstream CAD, but choose wisely at time of purchase as the LPDDR5 modules are soldered onto the motherboard. A 1 TB PCIe 4.0 NVMe SSD rounds out the core specifications.
Precision engineering
The Precision 5470 is a beautifully engineered laptop with an aluminium chassis and Dell's trademark carbon fibre palm rest. Everything feels solid and well built, especially the hinge. The trackpad is smooth and responsive, although a little small compared to larger machines. The Pro 2.5 keyboard is excellent with a fingerprint reader built into the power button. Alternatively, gain access to the machine through facial recognition with the Windows Hello compliant HD IR camera.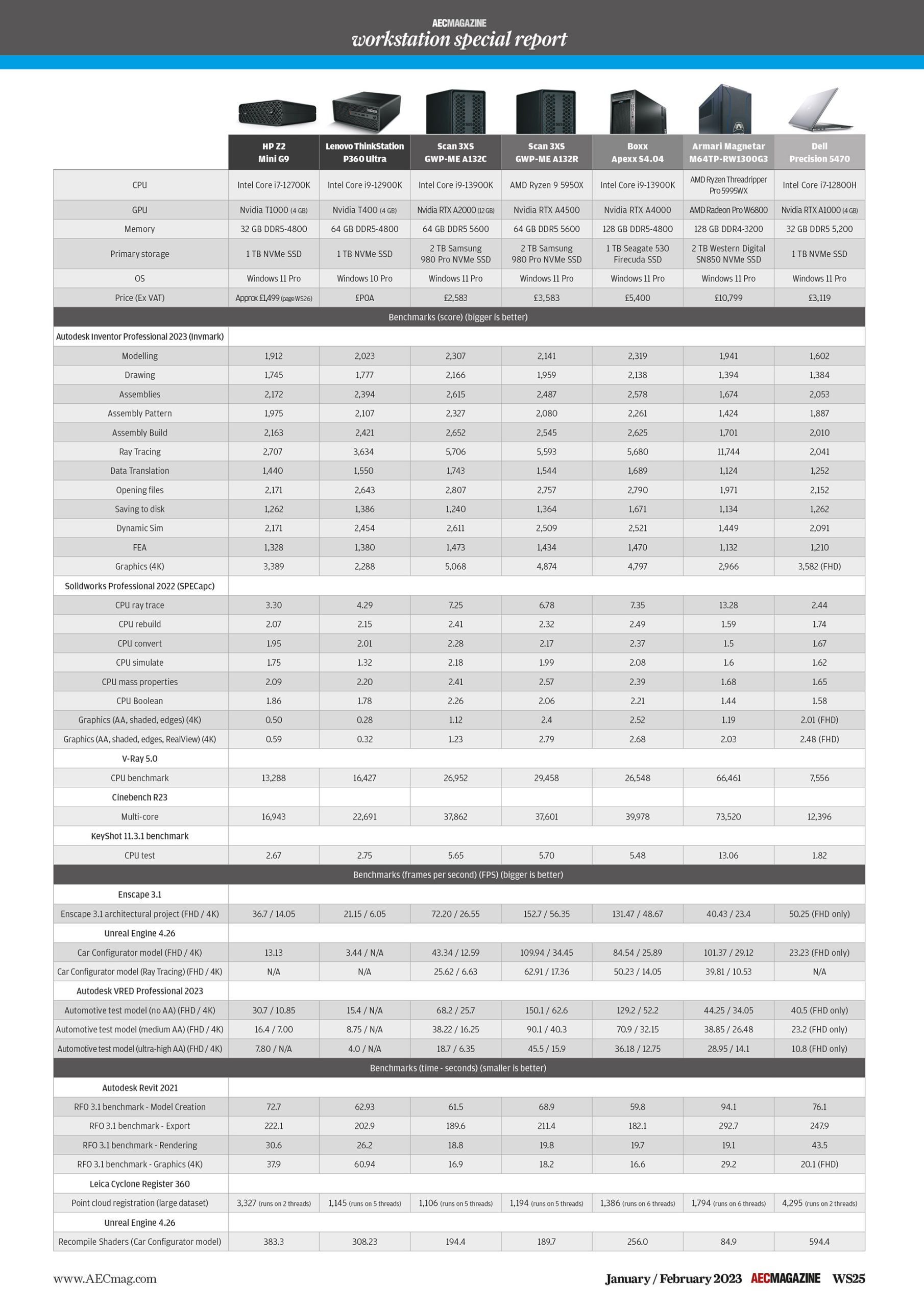 The 100% sRGB, 500 nits IPS display is perfectly respectable, but lacks the impact of brighter and more vibrant OLED displays available on larger pro laptops. Our test machine's FHD+ (1,920 x 1,200) display resolution is well matched to a machine of this size, adding a few more pixels to the standard FHD (1,920 x 1,080). For higher pixel density, there's a QHD+ (2,560 x 1,600) touchscreen option, though this will increase load on the GPU, probably reducing frame rates a little in graphics-hungry viz applications. The lnfinityEdge bezel contributes to the compact 311mm x 210mm footprint. Weight starts at 1.48kg, plus 0.47kg for the 130W AC adapter including UK plug.
The laptop is slim, maxing out at 18.95mm, which means it's USB-C only (two Thunderbolt 4 ports left, two right). There's no HDMi, DisplayPort, or Ethernet, but Dell includes a USB-C to HDMi / USB-A adapter in the box. Of course, to increase the connectivity options, there's an optional Dell Thunderbolt 4 Dock. Superfast wireless is standard, courtesy of the Intel AX211 WiFi 6E and Bluetooth 5.2.
The verdict
There's much to like about this highly portable 14-inch mobile workstation. Historically, machines of this size have been limited in what they can be used for, mostly because their GPUs have struggled with anything more demanding than small to medium sized 3D CAD models. However, the Dell Precision 5470's Nvidia RTX A1000 GPU expands the possibilities considerably, making it a viable option for entry-level visualisation.
This impressive balance of performance and portability doesn't come cheap, however. Our test machine comes in at £3,119 (Ex VAT). Still, considering the flexibility a lightweight laptop like this can give you, some will certainly find it a price worth paying.
---
Product Specs
Dell Precision 5470
■ Intel Core i7-12800H processor (2.40 GHz, 4.80 GHz Turbo) (6 P-cores, 8 E-cores, 24 threads)
■ Nvidia RTX A1000 GPU (4 GB)Nvidia RTX A4000 GPU (16 GB GDDR6)
■ 32 GB, DDR5, 5,200 MHz, integrated memory
■ 1 TB, M.2 PCIe 4.0 NVMe SSD
■ 14-inch FHD+ (1,920 x 1,200) 100% sRGB, 500 nits display
■ 311mm x 210mm x 18.95mm (w/d/h)
■ From 1.48 kg
■ 14-inch FHD+ (1,920 x 1,200) 100% sRGB, 500 nits display
■ Microsoft Windows 11 Pro
■ ProSupport and Next Business Day Onsite Service, 36 Month
■ £3,119 (Ex VAT)
■ www.dell.com/precision
---
Scroll down to read and subscribe here
Featuring