WS-1640A-PRO-G4 – This Threadripper Pro machine from Workstation Specialists is not for everyone, but looks ideal for applications where memory bandwidth is critical
---
In just a few years, AMD's Threadripper CPU has become synonymous with high-performance workstations. This is especially true in design viz, where rendering tools like V-Ray, KeyShot and Unreal Engine thrive on plentiful CPU cores.
But Threadripper is not actually a workstation processor. It's a 'consumer' CPU, with buckets of multithreaded performance – far more than your average YouTuber or gamer would ever need.
Even though Threadripper has sold well, AMD knew it needed a dedicated workstation CPU in order to properly address the workstation market (just like Intel has Xeon), so last summer, it launched Ryzen Threadripper Pro.
Threadripper Pro shares the same core silicon as Threadripper, but has several features that set it apart from its 'consumer' sibling. These include more memory channels (eight versus four), so it has more memory bandwidth; higher memory capacity (2TB ECC memory versus 256GB), so it can support larger datasets; and additional PCIe Gen4 lanes (128 versus 64), so it can support more GPUs and SSDs.
While these features can give Threadripper Pro an advantage in some workflows, the downside is the CPU runs at slightly slower clock speeds than consumer Threadripper with equivalent core counts, both in terms of base and boost frequency. How this equates to realworld performance will depend on the application — whether it's bottlenecked by memory bandwidth or CPU frequency.
Open competition
Threadripper Pro was originally exclusive to Lenovo in the Lenovo ThinkStation P620 workstation. However, in March 2021, AMD opened up the CPU to everyone, resulting in a plethora of new workstations.
One of those machines is the WS-1640APRO- G4 from Derby-based Workstation Specialists, which can be configured with a choice of three AMD Ryzen Threadripper Pro CPUs — the 16-core 3955WX, 32-core 3975WX or 64-core 3995WX.
The first thing you notice about the machine is its size. At 240 x 547 x 475 mm (WxDxH), the Fractal Design 7 XL chassis is significantly larger than the ThinkStation P620 (165 x 460 x 440mm WxDxH).
But there's a reason for this. Built around the Extended ATX ASUS Pro WS WRX80ESAGE SE WiFi motherboard, the WS-1640APRO- G4 can support up to four doubleheight GPUs, twice that of the ThinkStation P620. If you're into GPU rendering, this is an important consideration.
It also means there's plenty of room for storage expansion. With three on-board PCIe 4.0 M.2 slots and eight SATA ports, you can easily add to our review machine's storage – a 1TB Samsung 980 PRO PCIe 4.0 M.2 NVMe SSD and 2TB Seagate Barracuda 3.5-inch HDD.
There's a total of eight memory slots, all of which need to be populated in order to make the most of the 8-channel memory architecture. Our review machine was fitted with 128GB (8 x 16GB) DDR4 3200 GHz, but those who work with huge datasets can go all the way up to 2TB with 256 GB 2933 GHz ECC registered modules.
There are buckets of ports: three USB 3.2 (one Type C) and two USB 2.0 front top; and eight USB 3.2 Type-A, one USB 3.2 Type-C and one USB 3.2 Gen 2×2 (or SuperSpeed USB 20Gbps) at the rear. There's also dual 10G Ethernet and built WiFi 6 AX2000, which is particularly relevant for those currently working from home and don't want cables trailing round the house.
Our review machine came with the 32-core Threadripper Pro 3975WX, which has a 3.5GHz base frequency and a 4.2GHz Turbo. It's well suited to a range of multithreaded workflows, from ray-trace rendering, photogrammetry and computational fluid dynamics (CFD) which typically max out all available cores, to finite element analysis (FEA) and point cloud processing which, while multithreaded, might use fewer cores.
The machine performed well in our rendering tests but was outshone by the 32-core consumer Threadripper Scan workstation we reviewed in February. It was around 7% slower in KeyShot and 12% slower in V-Ray. In applications like these, memory bandwidth is not as important as frequency. In KeyShot, for example, the Threadripper Pro maintained 3.8GHz on all cores, but Threadripper hit 4.0GHz.
In point cloud processing software Leica Cyclone, the gap was much smaller, but Threadripper still had a 1% lead. This could be a case of memory bandwidth and CPU frequency cancelling each other out.
For Threadripper Pro to shine against its consumer counterpart, it needs to be used in applications where memory bandwidth is critical, such as CFD or FEA, as it means data can be fed into the CPU much quicker.
Unfortunately, we don't currently have any engineering simulation software in our testing suite, but we have heard anecdotally that in applications like Ansys Mechanical, users might see a significant performance benefit.
AMD also told us that when compiling shaders in Unreal Engine, Threadripper Pro has been seen to deliver a 30% to 40% jump in performance over an overclocked Threadripper CPU. Threadripper Pro's 8-channel memory should also benefit workflows like video editing and postproduction and when running multiple tasks in parallel.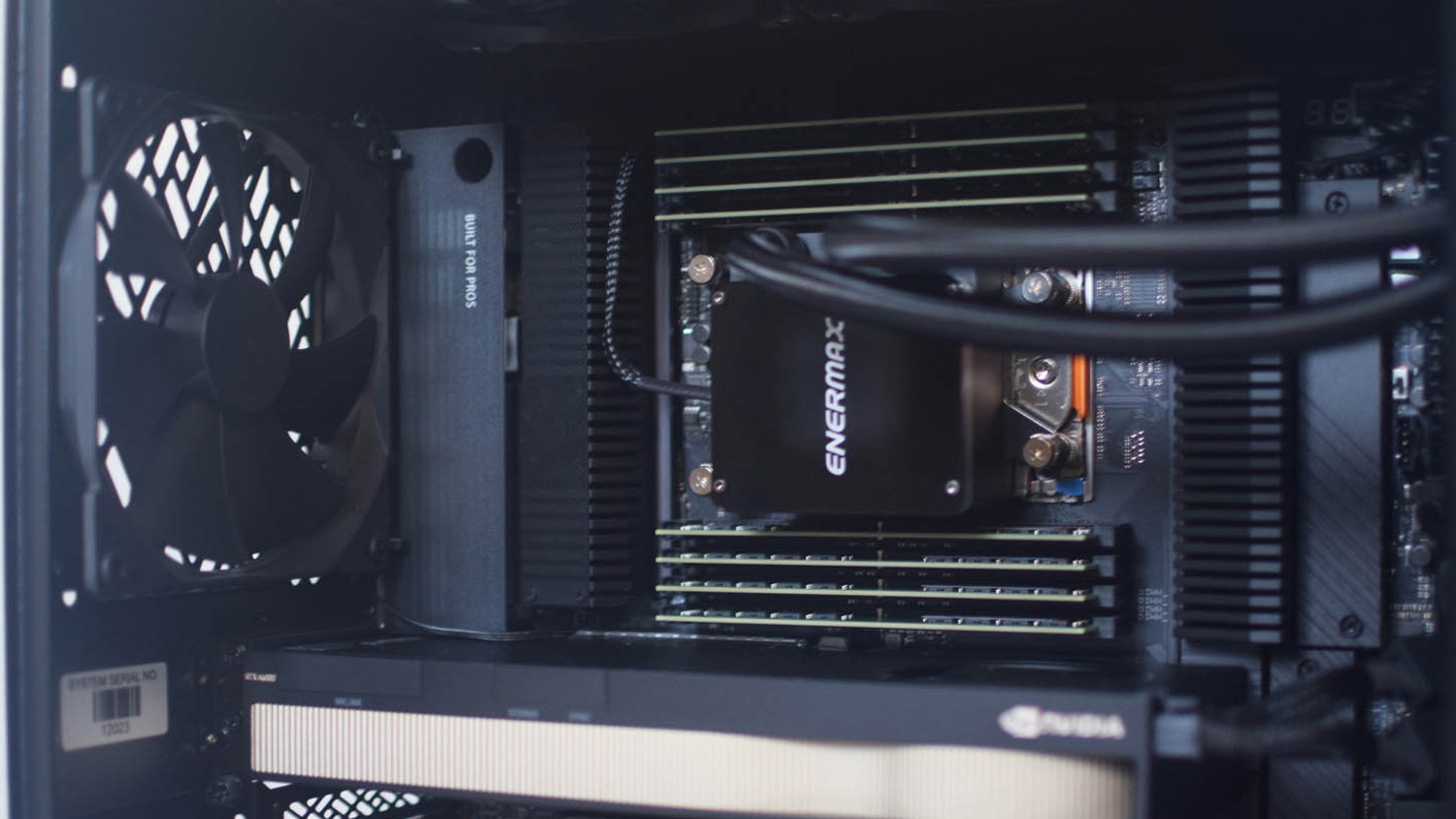 WS-1640A-PRO-G4 – Graphics
Our review machine came with two GPUs to test: the AMD Radeon Pro W5500 (8GB) and the new Nvidia RTX A6000 (48GB). The difference in performance is huge, but so is the price and not all workflows need such high levels of graphics processing. We'd recommend the AMD Radeon Pro W5500 in workflows like simulation and point cloud processing where graphics requirements are lower, but the GPU still delivers good all-round performance and is fully certified for a range of 3D tools.
If you're into real-time viz, GPU rendering or VR, the Nvidia RTX A6000 is a phenomenal GPU. And, if you really want to beef up the GPU rendering capabilities, you can pack four of these double-width inside, something you can't do on most other workstations.
Conclusion
The WS-1640A-PRO-G4 is an excellent, well-built workstation, ideal for the most demanding of users. But it's not for everyone. While the superior memory bandwidth of Threadripper Pro should benefit certain workflows like engineering simulation and some aspects of design viz, those who only perform ray trace rendering may still be better off with consumer Threadripper, especially as it's cheaper. The caveat is if you work with huge datasets: Threadripper Pro goes all the way up to 2TB, while Threadripper peaks at 256GB. In summary, get to know your applications, workflows and the size of your datasets before you invest.
---
WS-1640A-PRO-G4 – Specifications
AMD Ryzen Threadripper PRO 3975WX CPU (32 cores) (3.5GHz, 4.2GHz Turbo
128 GB (8 x 16 GB) 3200MHz 8-channel DDR4 memory
1TB Samsung 980 PRO M.2 PCIe 4.0 NVMe SSD + 2 TB Seagate Barracuda 3.5-inch HDD
Fractal Design 7 XL chassis (240 x 547 x 475 mm (WxDxH)
Microsoft Windows 10 Professional 64-bit
36 Months Premium RTB hardware warranty with remote engineer diagnostics by next business day
with AMD Radeon Pro W5500 (8GB) GPU £4,899 (Ex VAT)
with Nvidia RTX A6000 (48GB) GPU £8,199 (Ex VAT)
---
This article is part of AEC Magazine's 2021 workstation special report. To read the other articles and reviews in this report click on the links below.
Desktop Workstation Buyer's Guide
Greg Corke goes back to basics with some general advice for those looking to match their machine to architecture, engineering and construction (AEC) workflows
Intel Core vs AMD Ryzen for CAD, BIM & beyond
Which is the best CPU for design-centric workflows – from CAD and BIM to reality modelling and rendering
Workstations for CAD, BIM and viz: 2021
The latest desktop workstations for CAD and BIM-centric workflows
Best lightweight workstation laptops for 2021
Ultra-portable mobile workstations to take CAD, BIM and viz on the road
AMD Radeon Pro Viewport Boost review
Pro driver feature dramatically increases 3D performance by dynamically reducing viewport resolution
Nvidia RTX A4000 / A5000 review
New pro 'Ampere' GPUs slice through real-time 3D, ray tracing and VR workflows
Dell UltraSharp U4021QW review
This 5K2K widescreen display gives a bit extra when it comes to screen real estate
Hybrid working for AEC firms
With many firms re-evaluating office space and working from home policies, we asked Adam Jull of IMSCAD about the role that virtual workstations can play
Scan 3XS GWP-ME A132R (AMD Ryzen 9 5000) review
This Ryzen 5000 beast from Scan excels in rendering and extreme multi-tasking
Workstation Specialists WS-184 (11th Gen Intel Core) review
This 11th Gen Intel Core workstation is ideal for CAD and BIM centric workflows
AMD Radeon Pro W6800 review
This 32 GB beast is the first pro GPU from AMD with hardware-based ray tracing built in
The Revit Graphics Boost
New One Graphics System (OGS) will boost viewport performance and add GPU ray tracing