---
HP has updated its entry-level line of desktop workstations with the launch of the HP Z2 Small Form Factor G8 and Z2 Tower G8.
The compact, tool-less access HP workstations feature new technology throughout. This includes the new "rocket lake" 11th Gen Intel Core and Intel Xeon CPUs, new 'Ampere' Nvidia RTX GPUs and fast PCIe Gen 4 Samsung PM9A1 SSDs, which offer double the read write performance of PCIe Gen 3 Samsung SSDs.
HP says the Z entry desktop lineup also offers 'advanced security features', equipping IT departments the ability to keep devices, data, and identities protected.
The announcement of the new machines has been timed to coincide with the launch of the new 'Ampere' Nvidia RTX A4000 and RTX A5000 GPUs (read this AEC Magazine article to find out more) .
Nvidia's new GPUs are designed to rapidly accelerate ray tracing in RTX-enabled applications including Enscape, Chaos V-Ray, Autodesk VRED, Solidworks Visualize, KeyShot, Unreal Engine and many others (read this AEC Magazine article to find out more).
Both Nvidia RTX GPUs can be configured in the larger HP Z2 Tower G8. The AMD Radeon Pro W5500 and AMD Radeon Pro W5700 Graphics are also available as options, as are the Nvidia Quadro P400 and NVIDIA T1000, which are more suited to entry-level CAD and BIM workflows.
HP is also adding additional Ampere Nvidia RTX graphics options to its performance desktop line, including the Z4, Z6, and Z8 desktop workstations.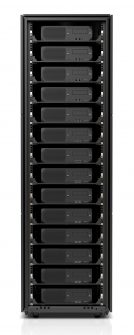 The HP Z2 G8 SFF, with its smaller chassis, will offer a choice of up to Nvidia Quadro RTX 3000 or AMD Radeon Pro WX3200 graphics.
According to HP, both the Z2 G8 SFF and Z2 G8 Tower offer 'Unthrottled performance' thanks to Z's 'industry-leading' thermals that keep the processor and graphics card cool, so they can run at max performance for extended periods of time. 'Unthrottled performance' also extends to the new PCIe Gen 4 Samsung PM9A1 SSD thanks to an 'innovative thermal solutions' designed by Z by HP engineers.
Both workstations can support up to 128 GB DDR4-3200 ECC SDRAM and offer a choice of sixteen Intel Core or Xeon CPUs. This includes the Intel Core i9-11900K (8 cores, 3.5 GHz base frequency, 5.3 GHz Turbo) and the Intel Xeon W-1390 (8 cores, 2.8 GHz base frequency, 5.2 GHz Turbo). 6 core CPUs are also available
The workstations also come with professional software certifications and HP ZCentral Remote Boost software, which give users GPU-accelerated remote access from almost any device. This can be from a desktop or from the datacentre (the HP Z2 SFF can be rack mounted).
Availability is expected in May 2021 with a starting price of $1,169 for the HP Z2 Small Form Factor G8 and $1,179 for the HP Z2 Tower G8.
HP has not launched a G8 version of the ultra compact HP Z2 Mini. However, an HP spokesperson told AEC Magazine that the  Z2 Mini is still alive and well, just not part of this announcement.