Complete redesign for Lenovo's thin and light ThinkPad P1 pro laptop with a 16-inch display and high-end Nvidia RTX graphics + Gen 2 update for ThinkPad P15 & P17
---
Lenovo has completed the roll out of its 2021 ThinkPad mobile workstation family. The ThinkPad P1 Gen 4, ThinkPad P15 Gen 2 and ThinkPad P17 Gen 2 were all announced today.
All three pro laptops boast 11th generation Intel Core 'Tiger lake' and Intel Xeon W-11000 series mobile CPUs with up to 8 cores. Other core specs include Nvidia 'Ampere' GPUs up to the Nvidia RTX A5000 GPU and PCIe Gen 4 SSDs.
Lenovo ThinkPad P1 Gen 4
The biggest change comes from the ThinkPad P1. The first three generations of this thin and light mobile workstation featured a 15.6-inch display and CAD-focused professional graphics.
The new ThinkPad P1 Gen 4 features a complete 'clean sheet' design with a 16-inch display and higher-powered GPUs. This includes the 'professional' Nvidia RTX A5000 (16 GB) which is suitable for real-time viz, GPU rendering and VR in applications like Enscape, V-Ray, Unreal Engine, Lumion, Twinmotion and more.
For the first time ever, Lenovo is also offering a choice of 'consumer' Nvidia GeForce GPUs. This includes the Nvidia GeForce 3070 (8 GB) and GeForce 3080 (16 GB).
Memory and storage capacity remains the same with up to 64 GB DDR4 3200MHz and up to two 2TB M.2 NVMe PCIe Gen4 SSDs.
To accommodate the higher-end GPUs, which draw significantly more power than those in previous generation ThinkPad P1s (read our ThinkPad P1 G3 review), Lenovo has developed a patent-pending thermal design.
The hybrid cooling solution features a 'vapour chamber' in addition to traditional heat pipes, as well as increased air intake. This is achieved by drawing in air through small invisible holes in the keyboard deck as well as through the traditional underside grills.
Lenovo is also using artificial intelligence to dynamically manage the 'cooling budget' inside the ThinkPad P1 Gen 4. The system automatically identifies the workflows in use and dynamically fluctuates the Total Graphics Power (TGP) or Thermal Design Power (TDP) provided to these components based on the total cooling budget.
For example, if a workflow is dependent on both the CPU and the GPU, it might set the TGP to 80W, whereas if a workflow is totally reliant on the GPU, such as GPU rendering, it could go as high as 90W or 100W.
Despite more powerful GPUs and a larger display, the ThinkPad P1 Gen 4's carbon fibre and magnesium alloy chassis has only increased slightly in size and weight – 361.8mm (w) x 245.7mm (d) x 18.4mm (h),  starting at 1.81kg.
The 16-inch IPS displays are available in different two resolutions – QHD+ (2,560 x 1,600) and UHD+ (3,840 x 2,400). The panels have a 16:10 aspect ratio to give a slightly larger vertical dimension compared to traditional 16:9 displays. They feature  narrow bezels, low-blue light technology and up to 600nits brightness.
Other features include an optional 5G module, a newly engineered keyboard design featuring a larger touchpad, improved anti fingerprint coating, a higher resolution FHD camera and a top-firing Dolby Atmos Speaker System.
The fingerprint reader has now been integrated with the power button and the battery has moved from 80WHr to 90WHr. There have also been general Intel platform improvements including WiFi 6E and USB-C Thunderbolt 4.
The ThinkPad P1 Gen 4 will go head to head with the HP ZBook Studio G8 (15.6-inch) and Dell Precision 5560 (15.6-inch) and 5760 (17.3-inch). However, Dell's new mobile workstations max out at the Nvidia RTX A2000 and Nvidia RTX A3000 respectively.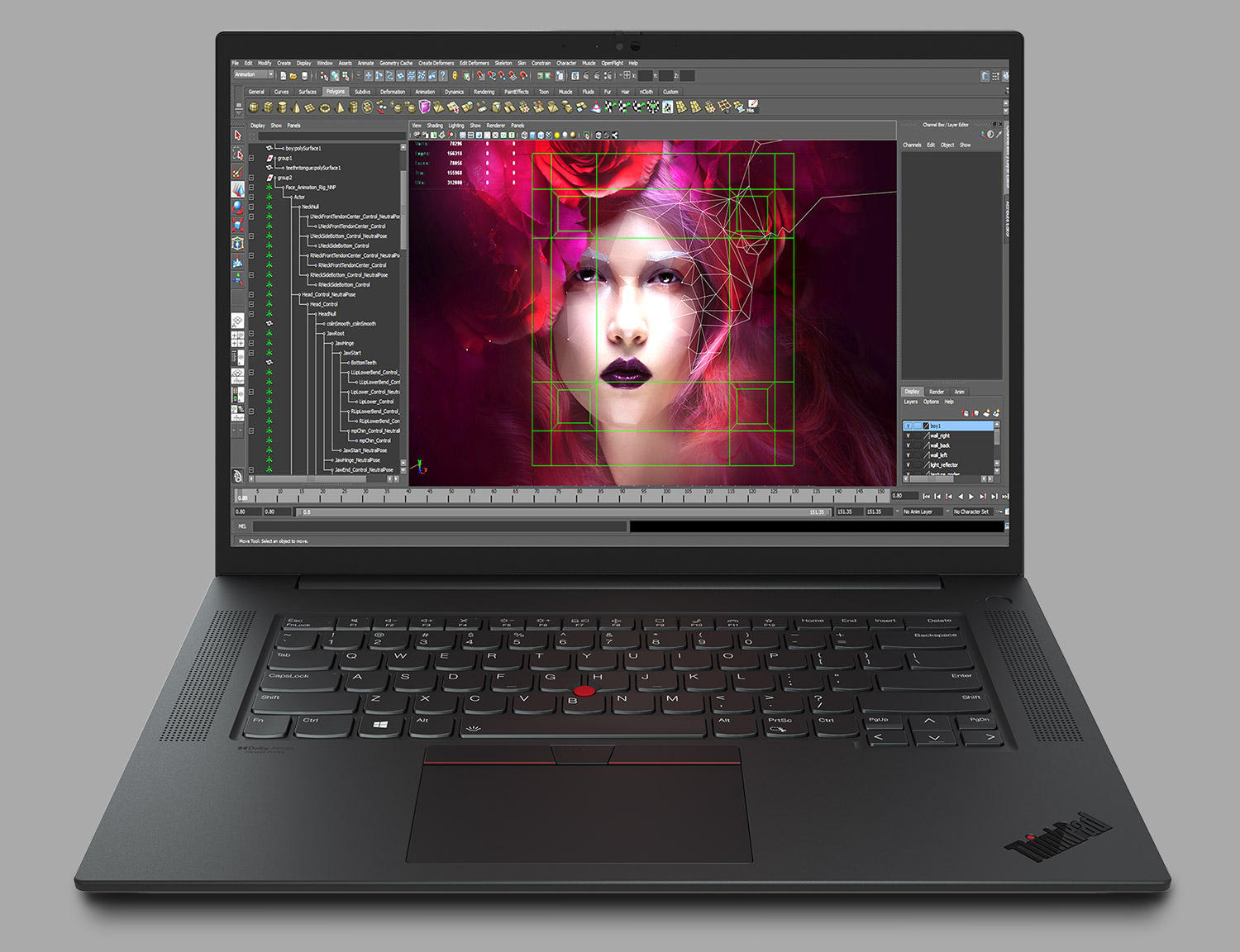 Lenovo ThinkPad P15 Gen 2 and P17 Gen 2
The ThinkPad P15 Gen 2 (15.6-inch) and ThinkPad P17 Gen 2 (17.3-inch) are refreshes of the Gen 1 models that launched last year. Display options go up to 4K resolution in a 16:9 aspect ratio. They offer up to 128GB DDR4 3200MHz of memory, double that of the ThinkPad P1 Gen 4, and up to three 2TB M.2 NVMe PCIe Gen4 SSDs
Both machines offer the same CPU and GPU options as the ThinkPad P1 Gen 4. This means there's not as much diffentiation between models as before. However, thanks to their larger chassis they are able to dissipate heat better so more power can be pumped into the GPU, theoretically resulting in better performance.
With the Nvidia RTX A5000, for example, the ThinkPad P15 and P17 Gen 2 can deliver 90W and 115W respectively by default, with more power delivered in 'Ultra Performance Mode'. This Lenovo-specific feature relaxes the restrictions on acoustics and thermals. Both machines have improved cooling. The fans are slightly bigger and the voltage is increased from 5 to 12 volts.
Unlike the ThinkPad P1 Gen 4, GPU options are restricted to 'professional' GPUs. However, Lenovo also has the ThinkPad T15g, which is an exact replica of the P15 but supports GeForce GPUs.
The ThinkPad P1, P15 and P17 will all be available in July. Prices start at $2,099, $1,749, and $1,779 respectively