New version of the architect-friendly real-time viz tool extends life of viz assets from concept through to enhanced cinematic experiences
---
Twinmotion, the easy-to-use arch viz tool that Epic Games acquired in 2019, finally has its long-awaited plug-in for Unreal Engine that enables users to import Twinmotion projects into the Unreal Editor.
With this extended pipeline, an architect can communicate preliminary concept ideas—such as visually indicating the type of materials, lighting, context, and other project elements—in Twinmotion, and then pass the project on to a visualisation specialist for further refinement in Unreal Engine.
Twinmotion 2021.1 also features Early Access to a new Presenter Cloud service that lets users publish a presentation to the cloud, and then share a URL with a collaborator or stakeholder. The service uses pixel streaming technology so all the graphics processing is done on a high-end GPU in the cloud and the collaborator can work interactively with the presentation on any desktop/laptop browser.
The ability to import Twinmotion files into Unreal Engine is by no means a finished project, but it's certainly an important first step and gives Epic Games a big advantage over the competition. Read what AEC Magazine thinks
The Presenter Cloud service, which Marc Petit, VP, general manager, Unreal Engine, first alluded to last year in this AEC Magazine article, is still in beta and being rolled out progressively. At the moment it is a free and exclusive service for those with a full commercial license of Twinmotion.
Phasing has also been added to Presenter files for this release,, enabling users to remotely present different stages of a project's construction schedule sequentially. Phasing can be played from any camera position.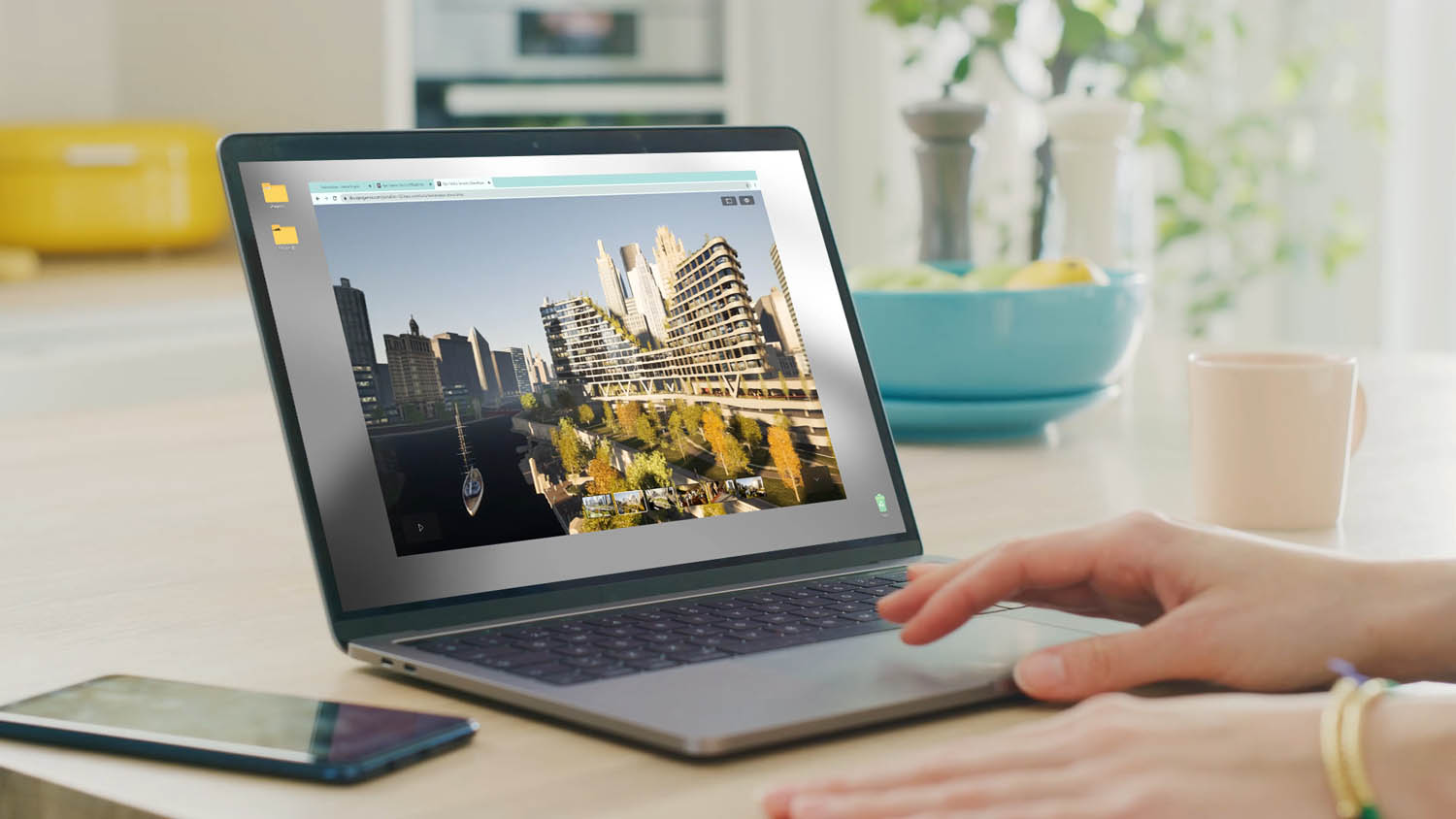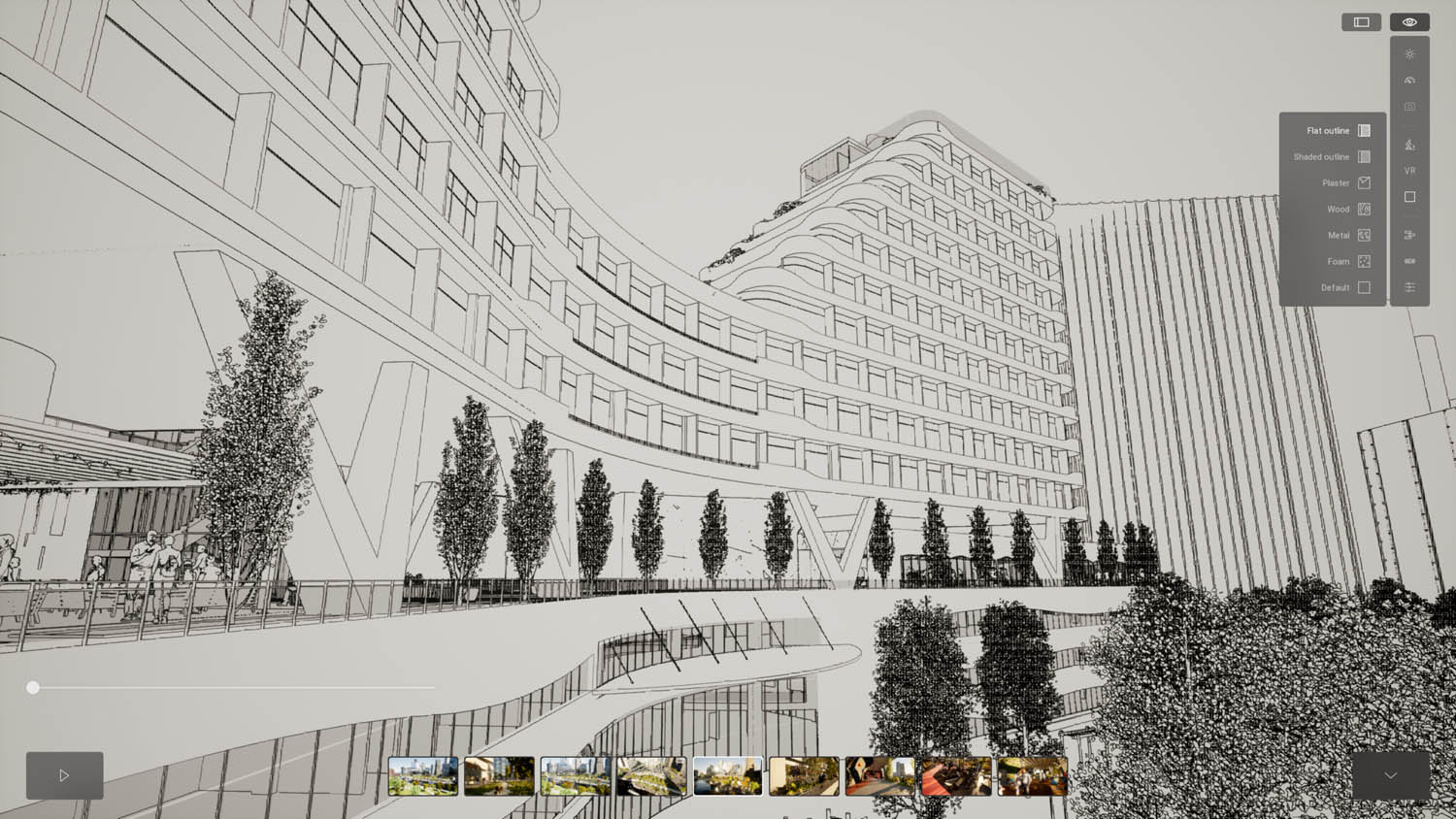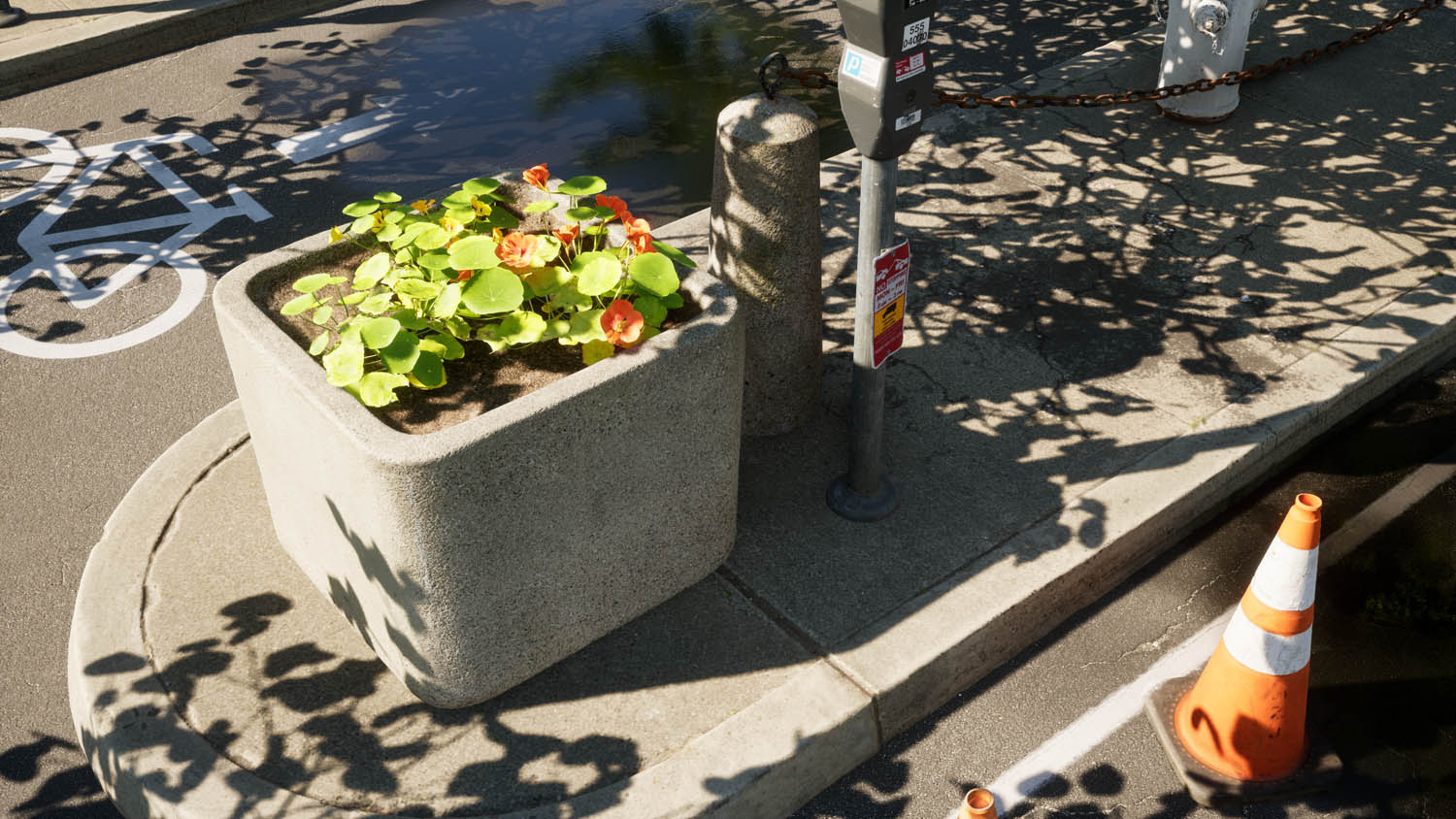 Following the acquisition by Epic Games of Quixel Megascans in 2019, the new version comes with thousands of high-quality materials and assets integrated right into the Twinmotion library. Megascans 3D assets include high-quality objects in categories like buildings, food, industrial, and nature, while the surfaces offer a vast collection of high-fidelity materials covering everything from bark to bricks, and from marble to metal. To save space these libraries are hosted on the cloud until required. There are an additional 140 new scene assets for the Twinmotion asset library, including 20 new Japanese and American trees, 60 furniture assets for populating gyms and street workout areas, and 60 new ready-posed humans.
Epic Games is also introducing a new Datasmith Direct Link for Revit, a first step in replacing the product's Direct Link plugins with 'more powerful, flexible versions' that will support synchronisation with multiple files simultaneously, as well as making multiple improvements to lighting intensities, auto-exposure, and Bloom. Users can easily import their existing building models from most other popular BIM and CAD programs including Archicad, SketchUp Pro, RIKCAD, and Rhino.
There are also new non-realistic rendering styles—hidden line, hidden line shaded, wood model, metal model, white model (clay render), and default material—to help architects focus on particular aspects of the design, such as lighting or form, or to represent a more technical hand-drawn style.
"Twinmotion 2021.1 has the capacity to transform the ability of AEC professionals to solve complex problems in real time by visualizing them in 3D, and to easily communicate their proposals to colleagues and stakeholders who may not have an understanding of traditional 2D drawings," said Ken Pimentel, AEC Industry Manager at Epic Games. "Twinmotion is a vital, yet easy to master, tool for those building the future, whether you're creating a photoreal digital twin of a city for urban planners to understand a new development or if you're part of a construction team planning on-site logistics. Twinmotion is also an integral part of the iterative architectural design process and it's also a tool for students to bring their ideas to life."
Twinmotion 2021.1 is currently available at a 25% discount price of $370 USD for a perpetual license. Offer ends April 1, 2021. This introductory price includes all subsequent upgrade releases until the end of December 2021
---
Twinmotion led the way for Arch Viz renderers with out-of-the-box content and the new point release does not disappoint. But it goes way beyond a functionality boost.
User have been crying out for the ability to import Twinmotion scenes into Unreal Engine for some time. In fact, we first learnt about its development in this 2018 interview with Twinmotion's Martin Krasemann before the Epic Games acquisition.
The new workflow means AEC firms can now more confidently start to develop viz assets in Twinmotion at the early stage of design and then use them as the foundation on which to build high fidelity, cinematic quality interactive experiences in Unreal Engine. This could include accurate lighting and material scenarios, higher-quality visualisation outputs, animations, and other advanced behaviours.
This is by no means a finished project – for example, the importer does not bring across all Twinmotion assets and it's not yet possible to bring Unreal Engine assets into Twinmotion – but it's certainly an important first step and gives Epic Games a big advantage over the competition.
The Presenter Cloud service is another notable advancement for Twinmotion 2021.1 as it means anyone can now view Twinmotion content in full interactive 3D regardless of which device they are using. Like most real time viz tools, Twinmotion needs a high-end GPU to get the best out of the software, so putting this in the cloud makes huge sense. And, in true Epic Games fashion, the service will be free, at least for the time being.
Twinmotion 2021.1 is based on Unreal Engine 4. With Unreal Engine 5 due out this year, the next big step will be to leverage some of the big leaps promised in the new engine, especially film quality geometry assets (swapping out lower poly Quixel Megascans for really high versions), the lumen dynamic global lighting system, plus 'nanite' allowing content with truly insane polycounts.
Twinmotion and Unreal development show some joined up thinking and 2021 is when the conversion really starts to deliver end to end Arch Viz workflows.
---
Meanwhile, read our in-depth article, about the huge investment Epic Games is making in the AEC industry and how its MegaGrant fund is helping driving third party and customer development.