Immersive design review software offers deep connection to Autodesk Construction Cloud
---
Autodesk has introduced Autodesk Workshop XR, an AEC-focused immersive design review workspace that is connected to its construction management platform, Autodesk Construction Cloud (ACC).
According to Nicolas Fonta, senior director and general manager, XR at Autodesk, Workshop XR is a natural extension of ACC, designed for seamless and immersive collaborative design review.
With Workshop XR, AEC teams can review and collaborate on projects to track issues, catch errors, and gain a better spatial understanding of the design. With 'automatically connected' data from ACC, there is no need to prep models. Issues are automatically synced and tracked with ACC, with a view to making design reviews 'frictionless and efficient'.
Multiple disparate users can collaborate in the Workshop XR workspace using standalone VR headsets. These are connected directly to the platform via WiFi. Depending on the location of the user within the BIM model, relevant 3D model data is streamed to the device and cached. All of the rendering is done locally on the headset.
For the best experience, Autodesk recommends the Meta Quest 3, but the Meta Quest 2 and Meta Quest Pro are also supported. While the initial focus is solidly on VR, there are plans to broaden support to other hardware devices. There is a functional desktop app in beta, which will potentially be released as a tech preview. There are also plans for mobile, including the Apple iPad.
Currently, teams can collaborate in VR to solve ACC issues. Alternatively, when design errors are found in VR, users can create ACC issues through a familiar ACC interface. Users get direct access to all BIM information, properties, and metadata.
The current focus is on Navisworks and Revit models, but Autodesk intends to broaden the types of formats and files that are supported in Workshop XR.
Workshop XR is a natural evolution of The Wild, the AEC cloud connected XR platform that Autodesk acquired in 2022.
According to Nicolas Fonta, the main difference with Workshop XR is its deep connection to Autodesk Construction Cloud.
The Wild offers integration with Autodesk BIM 360, but this is done by syncing workspaces and models. Whenever a new Revit, Navisworks or other 3D file is published to BIM 360, data is automatically pulled in.
"The source of truth for Workshop XR is your projects as they reside on ACC," says Fonta. "It means that there is no need to wait between the time where you want to start a review session and actually being in a headset.
"It means what you're creating, building and doing in Workshop XR does not go into a separate repository on the side in a different format. Everything you do, for example issues, it doesn't create a Workshop XR issue, it goes and creates an ACC issue. And similarly, anything that happens in ACC is viewable and accessible in our XR solution."
---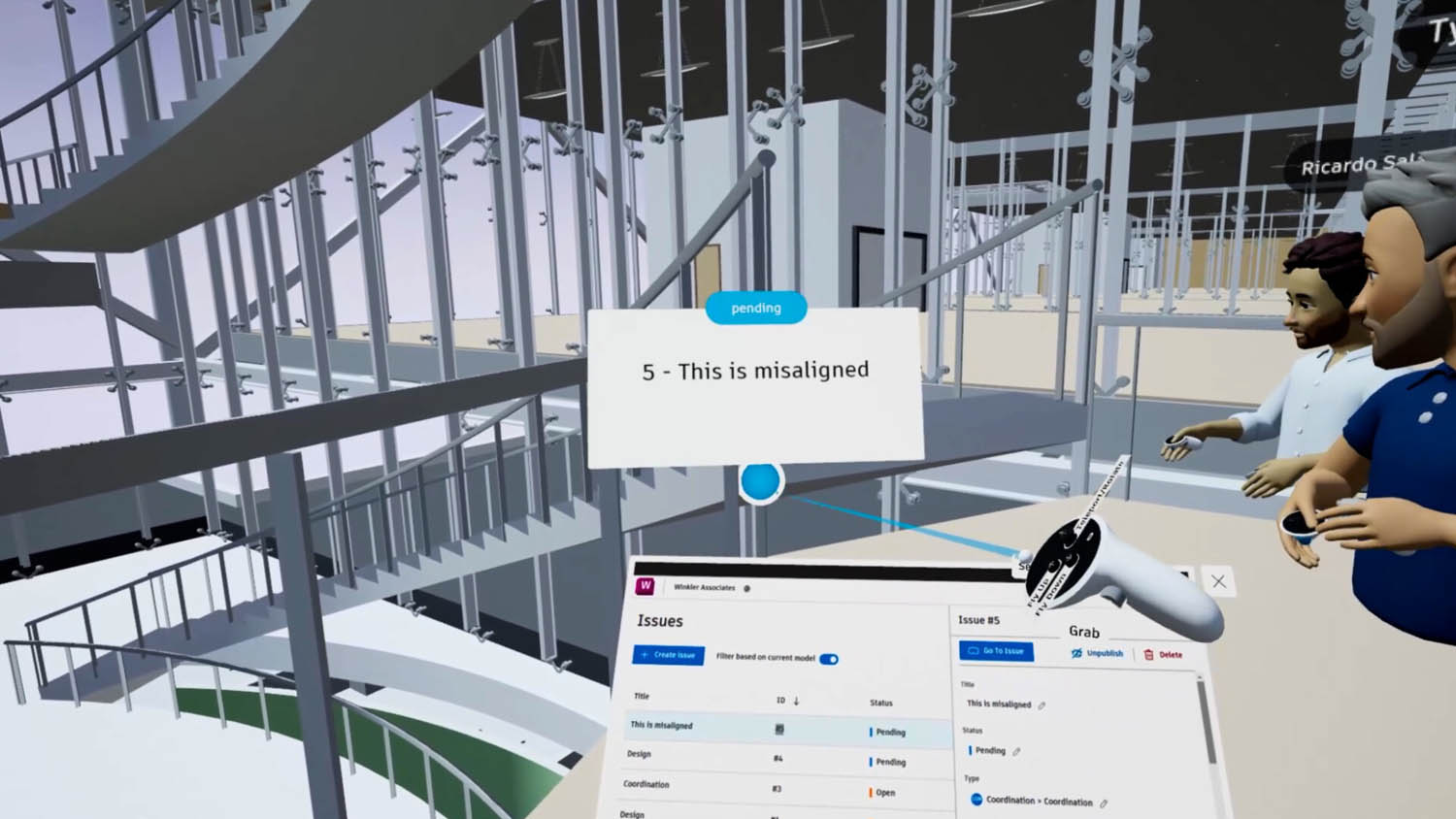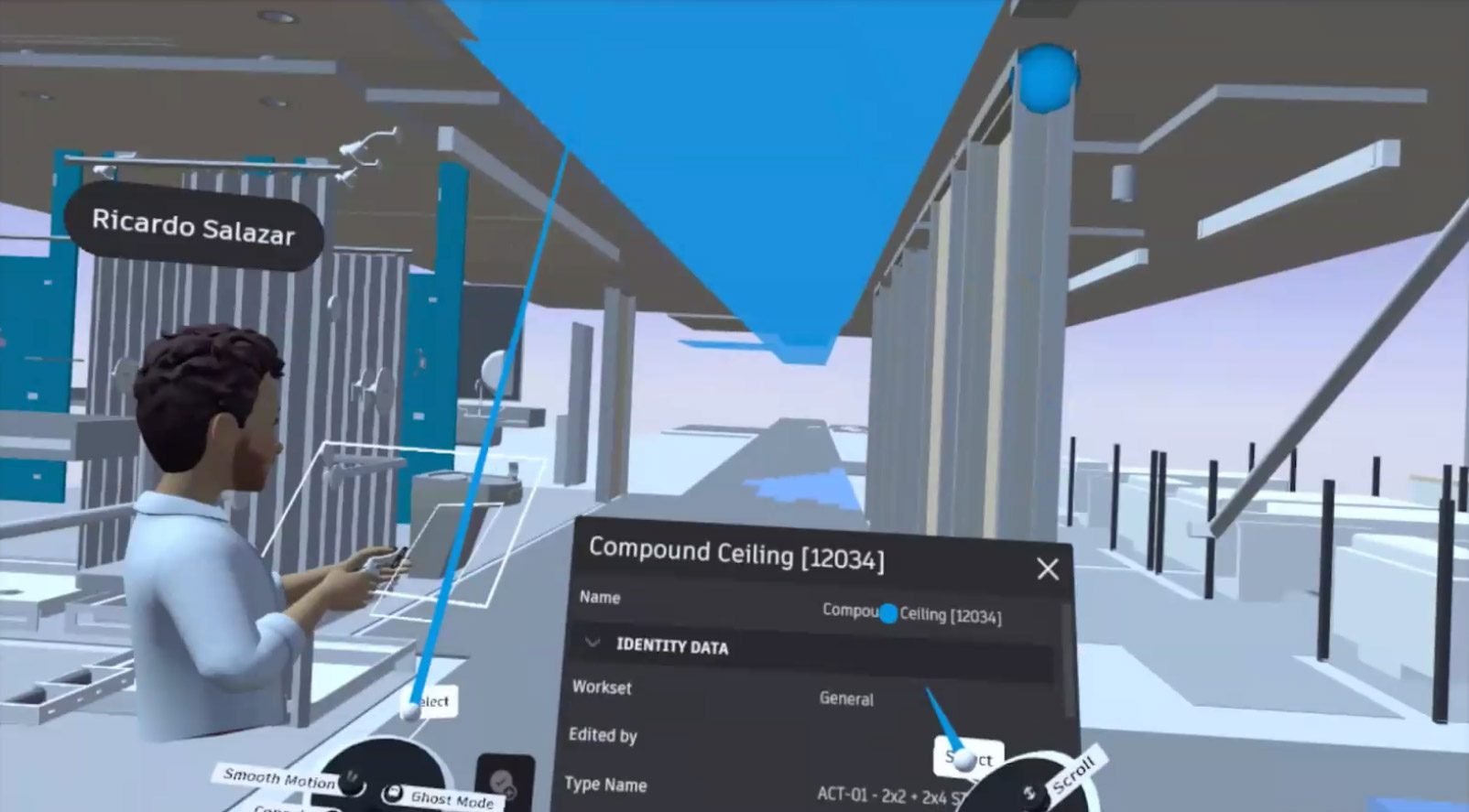 In order for ACC data to be readily available for XR consumption in VR headsets, Autodesk has spent a lot of time focusing on the data pipeline. This will also have a benefit beyond XR, as Fonta explains, "We also want to optimise the data pipeline at Autodesk in general for viewing. So, what we're doing is optimising everything and streamlining, so we're streaming just the pieces that are relevant to the experience and to the user in the VR headset, with the intention of reusing those capabilities across the board at Autodesk on our platform to optimise utilisation and data access."
---
Find this article plus many more in the November / December 2023 Edition of AEC Magazine
---
Fonta told AEC Magazine that 600 million poly models have been successfully loaded into Workshop XR, but this is only the beginning as he explains, "We intend to continue the optimisation of our data pipeline so that ultimately, we could put in and send any model size to Workshop XR to be used and experienced.
"To be clear, we're not saying that you will see the entire model at all times; what we're saying is that we're optimising for the experience based on where the user is, so that the relevant data (or where the person is located) and the use case or the task at hand and what they're trying to do, will be available."
Workshop XR cost $1,075 for a yearly subscription. AEC firms will also need to invest in ACC, although as Fonta points out there are many different levels. "Smaller firms might stick to the basic ACC and not go with things like takeoffs and all of the other products.
Workshop XR also comes with a free entitlement to Autodesk Docs. "You won't give you the full fledge capability and all the bells and whistles but at least you'll be able to connect, share with peers and do the basics," says Fonta.
---
What AEC Magazine thinks
VR has come a very long way since the early days of solo experiences on the HTC Vive and Oculus Rift. Back then data prep was a big challenge – either a highly skilled manual process, or a compute intensive on-demand workflow.
Autodesk's early forays into VR were flawed. Autodesk Stingray was for experts, and while Autodesk Revit Live had a simple push button workflow, hefty Revit models had to be uploaded to the cloud for processing. Sometimes you had to wait in a queue!
For AEC projects, the focus soon shifted to collaborative VR where participants from around the world could do design / review in an immersive environment. Many software developers plugged into Autodesk BIM 360, including The Wild, IrisVR, VREX, and Resolve, so VR could become a natural extension to design review. The idea was that any issue flagged in VR got automatically funnelled back into BIM 360 as a BIM 360 issue, where it could be assigned to individuals to resolve.
Workshop XR builds on this foundation by offering what Autodesk describes as a deep connection to ACC, making design review 'frictionless and efficient'. It certainly makes sense to have everything fully integrated and instantly available, where issues can be raised through a UI that should be familiar to users of ACC. Just how much this improves on current third-party BIM 360 workflows remains to be seen.
Workshop XR also doesn't yet offer desktop and mobile applications like its collaborative VR peers, which is significant as not everyone who needs to contribute to design review has access to an VR headset. Broader client support should be coming soon, however, and we suspect there will be other yet unseen benefits further down the line as both ACC and Workshop XR evolve.
There are of course other routes to immersive VR in collaborative design review. Revizto, for example, offers basic VR support, but leans more towards immersive workspaces like the Fulcro FULmax or Igloo Vision.
Meanwhile, Resolve, which features a custom 3D engine that can render 600M polygon files, allows any issues found in its collaborative VR platform to be brought into Revizto for tracking and issue resolution. But this workflow is currently file-based using the BCF format. Resolve also supports issue exports into ACC, Procore, and Newforma Konect.
In addition, while Arkio isn't specifically designed for design / review (more for conceptual design), it enables multiple participants to collaborate on Revit models in VR but costs significantly less.