New RDNA 3 pro graphics cards target price / performance to take the fight to Nvidia and its RTX 6000 Ada Generation
---
AMD has launched the Radeon Pro W7900 and Radeon Pro W7800, the first workstation GPUs to be built on AMD's RDNA 3 architecture. Target workflows for the new high-end cards include visualisation, real-time 3D, ray trace rendering, photogrammetry, VR, simulation, video editing, compositing and more.
The AMD Radeon Pro W7900 is triple (2.5) slot GPU with 48 GB of GDDR6 memory, 61 TFLOPs of peak single precision performance and a total board power of 295W. It costs $3,999.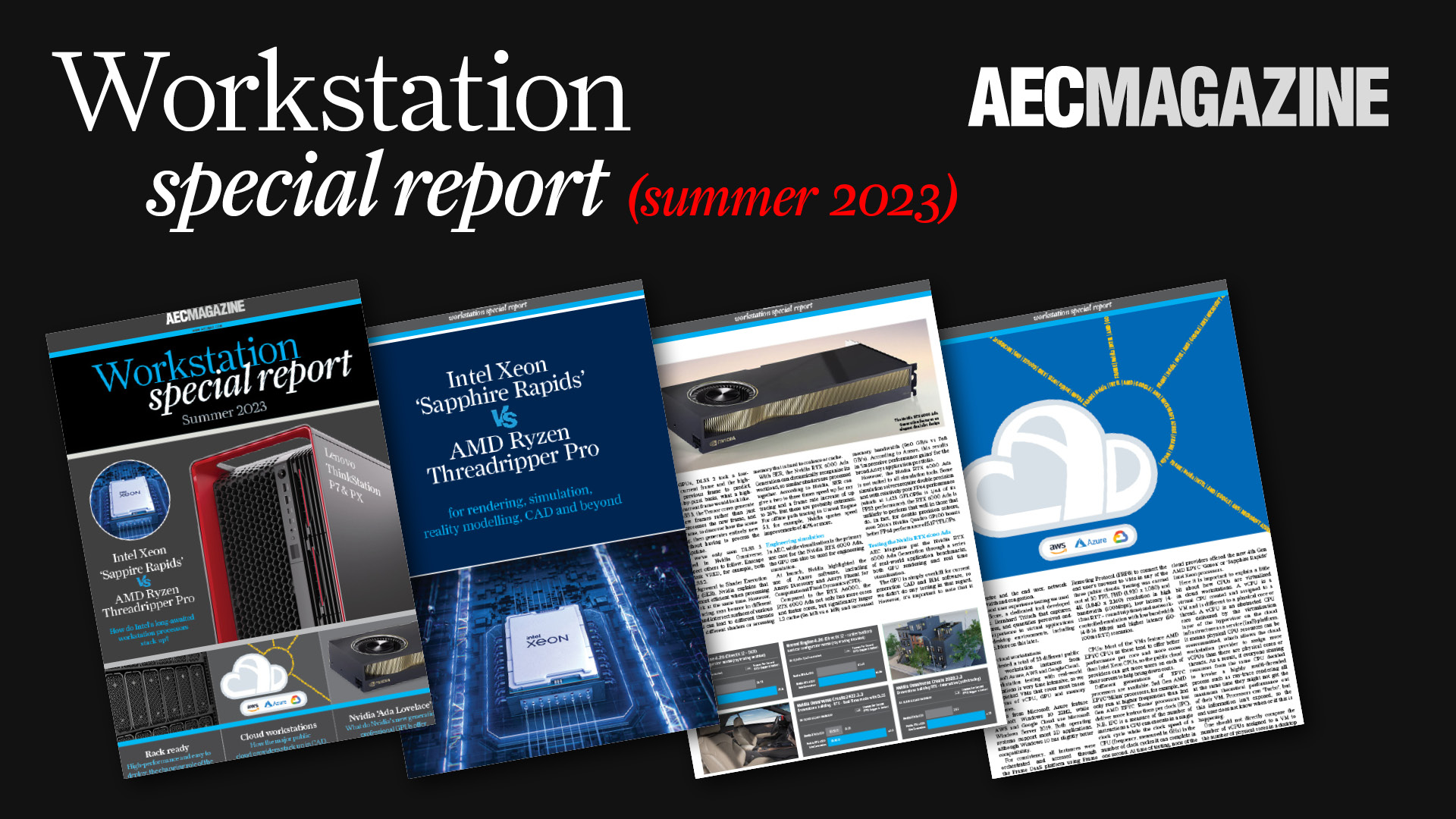 The AMD Radeon Pro W7800 is a dual slot GPU with 32 GB of GDDR6 memory, 45 TFLOPs of peak single precision performance and a total board power of 260W. It costs $2,499.
Both GPUs comprise multiple unified RDNA 3 compute units, each with 64 dual issue stream processors, two AI accelerators and a second gen ray tracing (RT) accelerator. According to AMD, RDNA 3 offers up to 50% more raytracing performance per compute unit than the previous generation.
AMD's ray tracing (RT) accelerators are compatible with Unreal Engine, Unity, Lumion, Enscape, Solidworks Visualise, D5 Render, Maxon Redshift, plus other applications that support DirectX Raytracing (DXR), Vulkan ray tracing, or AMD Radeon ProRender, including Acca Edificius, Autodesk Inventor, Rhino, Autodesk Maya, and Blender.
The new GPUs will go up against the Nvidia RTX 6000 Ada Generation (48 GB). While AMD only names two benchmarks where the Radeon Pro W7900 will outpace Nvidia's flagship pro GPU (the 3ds Max and Maya viewsets in SPECviewperf 2020), it points out that both AMD GPUs are extremely competitive on price / performance.
In SPECviewperf 2020 GeoMean, for example, AMD claims the Radeon Pro W7900 is within 7% of the performance of the Nvidia RTX A6000 Ada Generation but offers more than double the price/performance, as it costs less than half as much ($3,999 vs $8,615).
---
AMD also highlights support for DisplayPort 2.1, the latest version of the digital display standard which offers three times the data rate of DisplayPort 1.4. According to AMD, this means its new GPUs are future proofed for next gen displays in terms of refresh rate, pixel resolution and colour bit-depth, while pointing out that the Nvidia RTX 6000 Ada Generation supports DisplayPort 1.4.
Both the AMD Radeon Pro W7800 and W7900 feature three DisplayPort 2.1 and one Mini DisplayPort 2.1 connectors, a change from the previous generation Radeon Pro W6800 with six Mini DisplayPort 1.4.
With 48 GB, the Radeon Pro W7900 also marks a step up in terms of memory, with 50% more than its predecessor, the Radeon Pro W6800, putting it on par with the Nvidia RTX 6000 Ada.
Memory is becoming increasingly important for viz workflows, not just to support extremely complex high-polygon datasets, but for multi-tasking as well, as product designer, Dr. Adi Pandzic, Ph.D, explains, "Large format renders require more horsepower, especially when doing 4K raytraced animations using [Solidworks] Visualize. The Radeon Pro W7900 allows me to easily keep working on the model [in Solidworks CAD] while rendering in the background."
Rich Hurrey, president, founder, Kitestring, shares similar experiences, "The increased memory that the new AMD RDNA 3 GPUs offer, allows us to have multiple instances of Maya, Modo, and Unreal Engine open at the same time. All of this means that production work gets done faster and in real time."
Memory also differentiates the new GPUs from AMD's consumer focused RDNA 3 GPU, the AMD Radeon RX 7900 XTX which has 24 GB. Both pro GPUs also come with AMD Software: Pro Edition. This offers professional software certifications for 'performance and stability', and pro features such as ViewPort Boost, which dynamically adjusts viewport resolution to boost performance, remote workstation support and more.
The AMD Radeon Pro W7000 Series workstation graphics cards are expected to be available in Q2 2023. Product availability in OEM and SI systems is expected in 2H 2023.
Look out for a full review soon.
---
Scroll down to read and subscribe here
Featuring