These are two of the most well designed and manufactured workstations we've ever seen, built for desktop or datacentre, but AEC firms will need to look closely at which workflows will benefit from the new 'Sapphire Rapids' Intel Xeon processors inside
---
Lenovo has played its workstation hand extremely well over the last few years. In 2020, while HP and Dell continued to rely on ageing Intel 'Cascade Lake' processors to power their high-end workstations, Lenovo embraced AMD Ryzen Threadripper Pro and the ThinkStation P620 was born.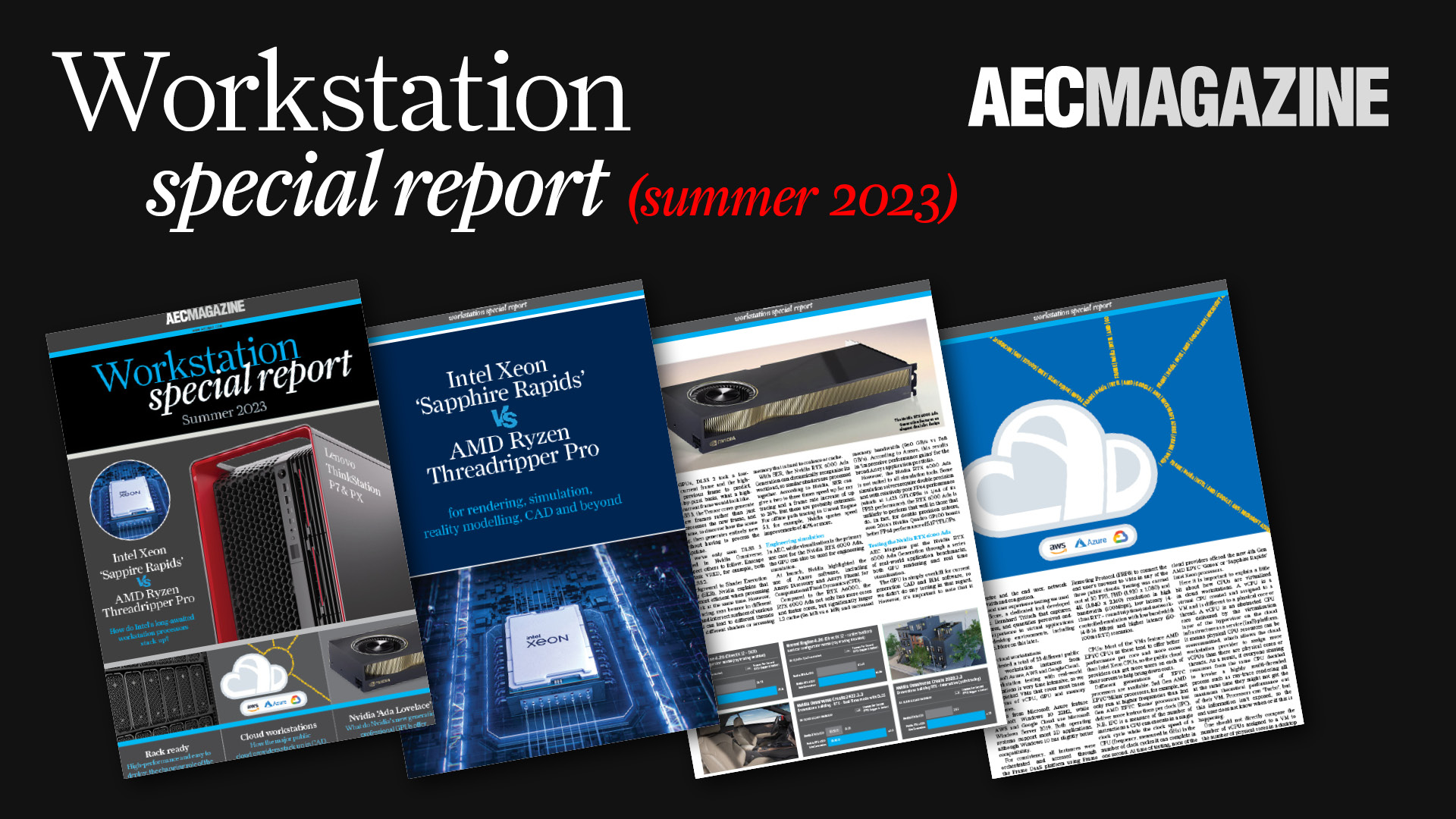 The processor's 64-cores gave Lenovo a significant performance advantage in a range of multi-threaded workflows, from simulation to ray trace rendering. Intel had nothing that came remotely close, but now with its new 'Sapphire Rapids' workstation processors, this is about to change.
And Lenovo is certainly going big with 'Sapphire Rapids'. Its new workstations, the ThinkStation PX (pronounced P10), P7 and P5 arrived with considerable fanfare in March 2023. The striking black and red design is the result of a collaboration with legendary automaker Aston Martin. The workstation's front grill and side panel's flush handle are classic Aston Martin.
The flagship ThinkStation PX is the most expandable of the new machines, featuring dual 4th Gen Intel Xeon Scalable processors (up to 2 x 60-cores), up to 2 TB of DDR5 4,800MHz memory, and up to four dual-slot GPUs, including the Nvidia RTX 6000 Ada Generation. The machine is designed to handle the most demanding multi-threaded or multi-GPU workflows such as Computational Fluid Dynamics (CFD), ray trace rendering and video editing.
The ThinkStation P7 comes with a choice of workstation-specific Intel Xeon W-3400 Series processors (up to 56-cores), and up to 1 TB of DDR5 4,800MHz memory. The single socket machine will likely hit the price/performance sweet spot for many visualisation and simulation workflows, especially those that want the combination of high clock speeds for single threaded operations and 56-cores. It can also support up to three dual-slot GPUs.
The ThinkStation P5 features Intel Xeon W-2400 Series CPUs (up to 24 cores) and up to two dual-slot GPUs. Lenovo calls the P5 an 'industry workhorse' and it looks well suited to a wide range of workflows from CAD and visualisation to simulation and reality modelling, although we expect it will face stiff competition from Lenovo's Intel Core-based workstations.
---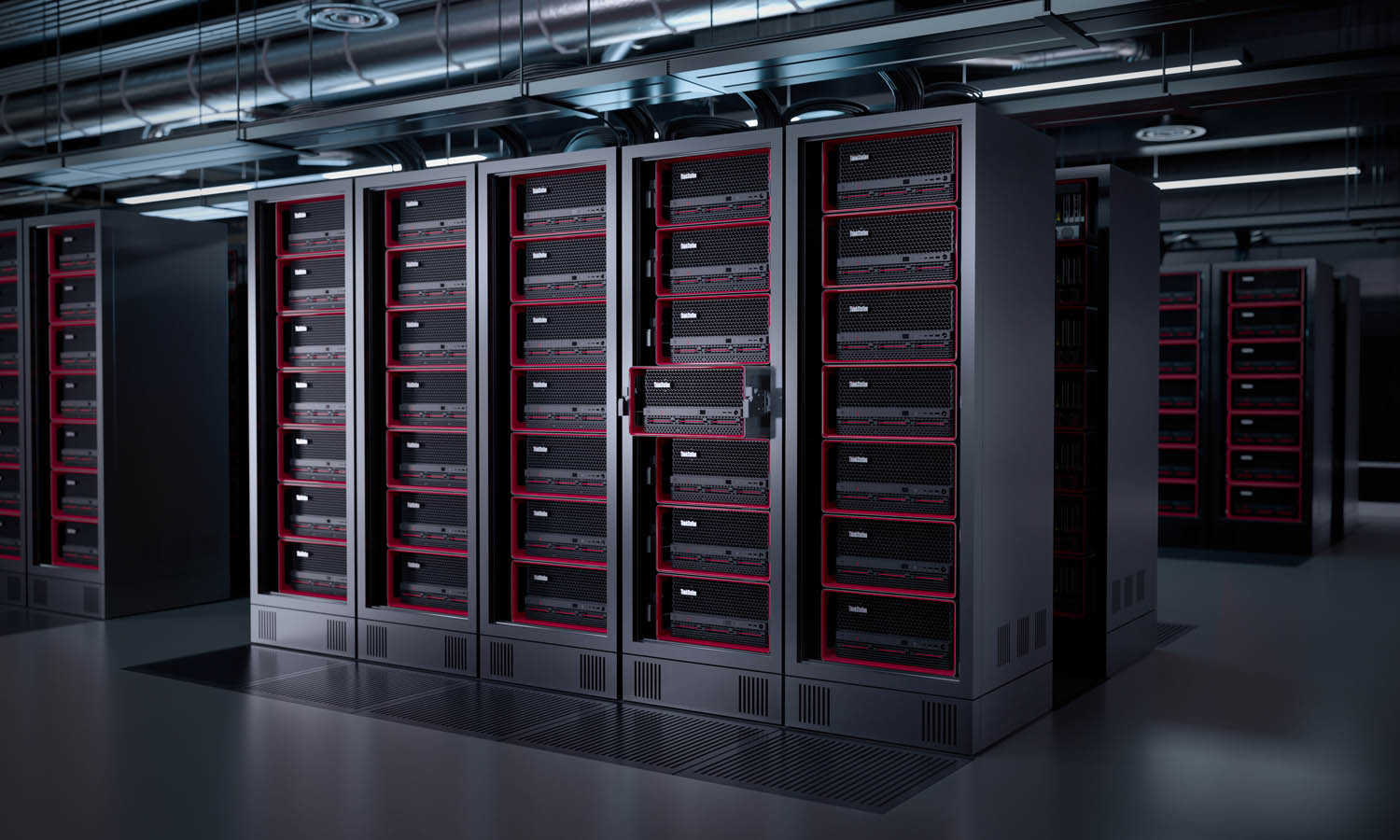 Rack optimised
The ThinkStation PX and P7 were built from the ground up to be 'rack optimised' and offer several features to transform these desktop machines into what Lenovo describes as 'hybrid cloud workstations', with remote management capabilities like those found in rack servers.
This includes an optional Baseboard Management Controller (BMC) card that gives IT managers 'full remote management'.
According to Lenovo, it will enable them to monitor the workstation, cycle on and off, perform BIOS or firmware updates and re-image the machine if necessary. In addition to data centre deployments, this could be of interest to IT managers supporting those working from home.
The machines also feature enhanced on-board diagnostics with a small LCD display on the front that shows a QR code in the event of a system error – even out of band failure states when a machine won't turn on. The user simply snaps the code with their smart phone camera, and they will be taken directly to the relevant page on the Lenovo service website.
---
Lenovo ThinkStation PX design
As Lenovo's flagship 'Sapphire Rapids' desktop workstation, it's hardly surprising that the ThinkStation PX has the most impressive chassis. The build quality is superb, arguably the best we've seen in any workstation. The solid metal chassis has handles built into all four corners. It feels incredibly strong. And it certainly needs to be. Our test machine was heavy enough with a single GPU, single PSU and no Hard Disk Drives (HDDs). Carrying a ThinkStation PX around is a two-person job. Lifting it into a rack could be an Olympic sport.
The ThinkStation PX is primarily a desktop workstation, but it's also been built from the ground up for the datacentre with a rack optimised '5U' design. Bolt holes are hidden under a removable top cover, making it easy to deploy in a standard 19-inch rack with the optional sliding rack rail kit.
For resiliency and redundancy, the machine comes with an optional second rear hot-swappable 1,850W power supply unit (PSU), so should one PSU fail, the machine will carry on working. There's also a rear accessible power button and lockable front access hot swap storage, which includes options for both 3.5-inch Hard Disk Drives (HDDs) and Solid State Drives (SSDs). Up to two SSDs can also be mounted on the motherboard but will be hidden under a GPU in multi GPU configs.
---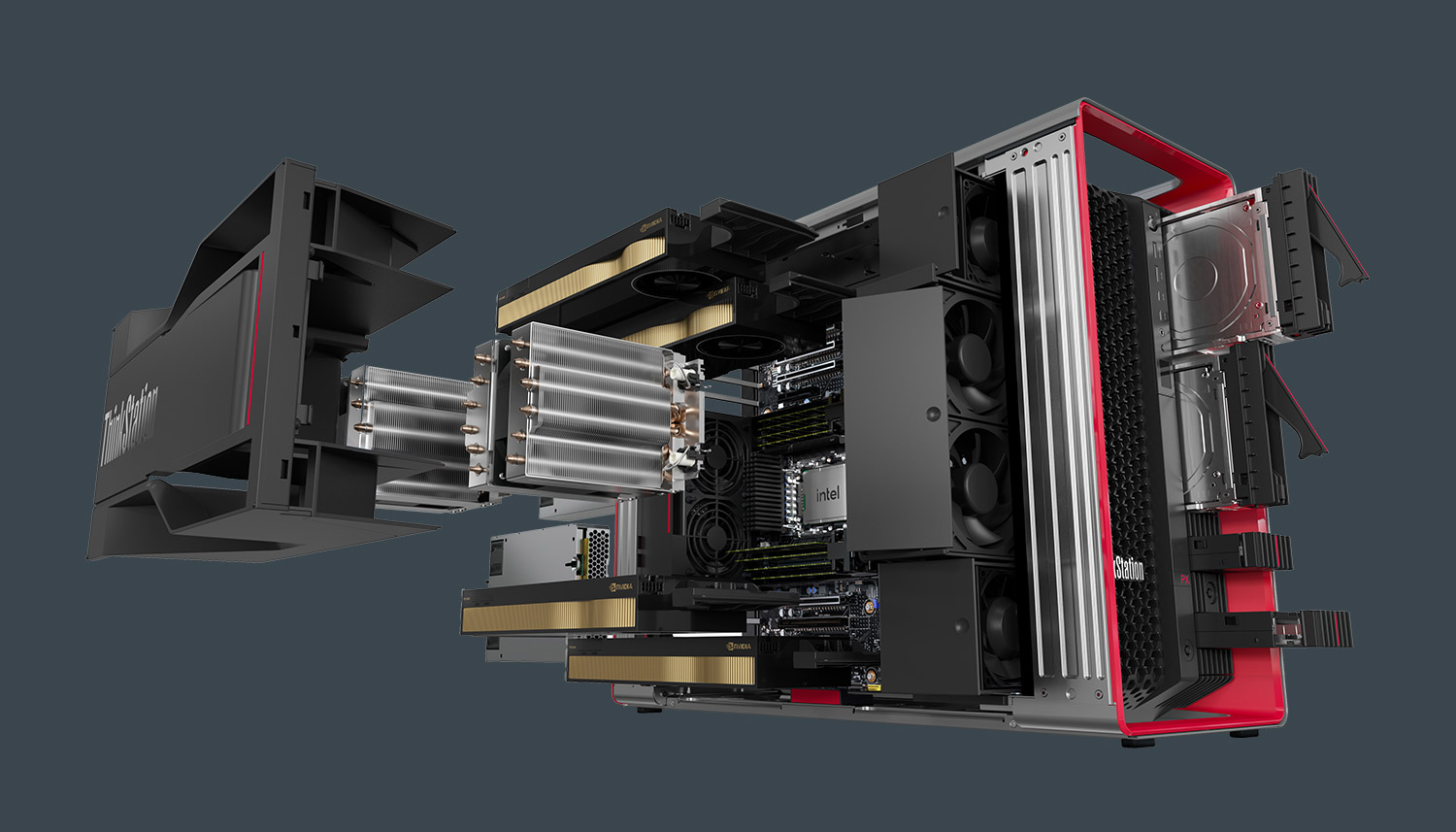 Alongside the front drive bays, you'll find the power button, headphone jack, LCD diagnostics display, two USB Type A and two USB Type C ports, which light up when powered on. This this is a big plus to stop you scrabbling around in the dark.
There are plenty more ports at the rear – 6 x USB Type A and 1 x USB Type C, along with two RJ45 Ethernet ports – 1GbE and 10GbE. There's also an optional Intel AX210 WIFI PCIe Adapter with antennas built into the top of the chassis.
Inside, the system is essentially split into two distinct sections with the motherboard offset from the side. Above the motherboard you'll find CPU, memory and GPUs. Beneath the motherboard is storage and power supply units (PSUs).
The beauty of this design is that the components that generate the most heat enjoy uninterrupted airflow from front to back. And considering that a fully-specced ThinkStation PX can house up to two 350W Intel Xeon Platinum CPUs, up to four 300W Nvidia RTX 6000 Ada Generation GPUs and up to 2TB of DDR5 memory spread across 16 DIMMs, it certainly needs all the help it can get.
---
To optimise thermals, Lenovo uses a tri-channel cooling system. Fresh air is drawn in through the '3D Hexperf' front grill, the design of which was inspired by Aston Martin's iconic DBS grand tourer. But it's not just for looks. The spacing and shape of the rigid plastic grille, which has rounded spikes that protrude at the front, is optimised for maximum airflow.
The engineering star of the show is the redesigned ABS plastic air baffle, that acts as a wall of separation between the tri-channel cooling system's three distinct zones. Each zone is fed by its own fans — the idea being that you don't get any pre-heated air from the CPUs going into the GPUs and vice versa. The baffle also separates the CPUs and brings a different channel of fresh air to each as well as the memory DIMMs.
---
Despite the close attention to thermal engineering, the ThinkStation PX is not a silent machine. Fan noise was quite noticeable when rendering or solving Computational Fluid Dynamics (CFD) problems using both Intel Xeon Platinum 8490H processors. But this is hardly surprising, as it drew 1,000W at the socket. Still, compared to a rack mounted server it's an oasis of calm.
The ThinkStation PX scores very highly on serviceability with tool-free access on everything bar the CPUs. It's not only one of the most beautifully engineered workstations we've ever seen; it also feels like everything has been manufactured to very low tolerances. This starts with the side panel which can be removed easily with a simple press and pull of the stylish flush handle. The panel effortlessly clicks back into place, which can't be said of many desktop workstations.
All serviceable components are signposted with red touch points, from the replaceable fans with blind mate connectors and the PSU(s) at the rear, to brackets that hold the GPUs in place and levers to ease out the hard drive caddies. Aston Martin's Cathal Loughnane reckons you don't need a user manual. We wouldn't go that far, but it's certainly intuitive.
---
Lenovo ThinkStation P7 design
From the outside the ThinkStation P7 looks like a slimmed down version of the PX. It's the same height, but not as deep or wide (4U, for racks). This means there are no front accessible drive bays, and all interior components are located on one side of the motherboard – CPU and memory in the middle, GPUs either side and PSU and HDD caddies at the bottom.
An air baffle channels cool air directly over the CPU, while both 4 DIMM memory banks have their own cooling fan units which clip off.
As the front CPU fans only need to cool a single Intel Xeon W-3400 series processor, they are much smaller than those used on the ThinkStation PX. And, it seems, they don't have to work as hard. When rendering in KeyShot, for example with the single Intel Xeon w9-3495X processor, the machine was remarkably quiet, even though it drew 530W at the socket. And it can do this for hours on end. In Keyshot 2023, for example, when rendering a multi-frame animation on all 56-cores, fan noise remained constant, and the CPU maintained a steady 2.85 GHz.
The P7 follows the same design ethos as the PX with red touch points throughout. You don't get quite the same level of serviceability, however. Once you clip out the cooling fans, for example, you must still disconnect the cables from the motherboard.
Elsewhere the chassis shares many of the same features as the PX – rear power button, built in WiFi, dual Ethernet, etc.
---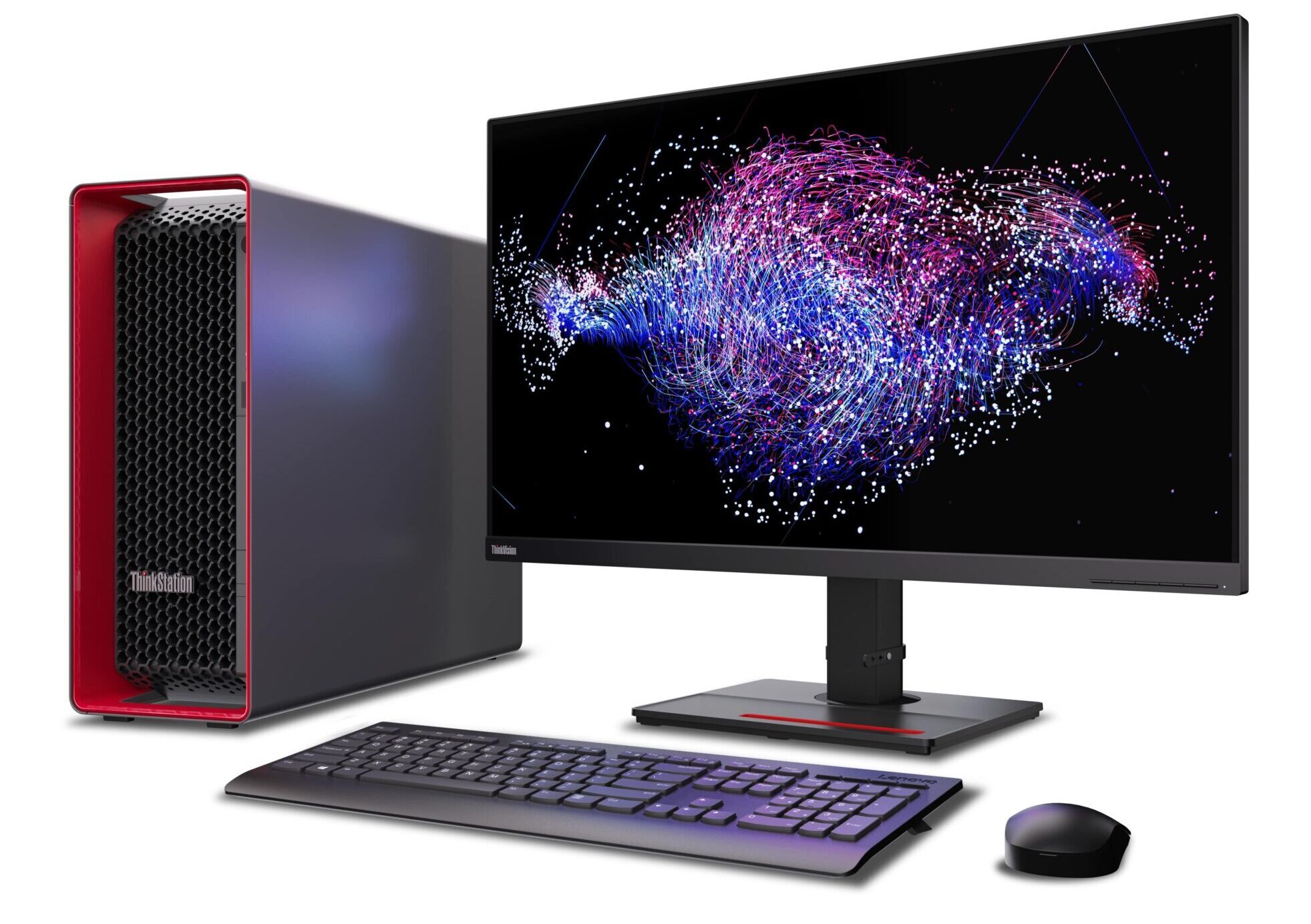 ---
ThinkStation P7 / PX in action
Lenovo lent us a ThinkStation P7 and ThinkStation PX. These are pre-production units, so they may be slightly different to the final shipping workstations. Performance, for example, may increase with BIOS updates, so our benchmark results should not be treated as gospel.
The core specs can be seen below.
---
Lenovo ThinkStation P7
Intel Xeon w9-3495X CPU
256 GB (8 x 32) DDR5 4,800MHz memory
4 x Nvidia RTX A4000 GPU (16 GB)
2 TB Samsung PM9A1 SSD
Microsoft Windows 11 Pro for workstations
Lenovo ThinkStation PX
2 x Intel Xeon Platinum 8490H CPUs
256 GB (16 x 16) DDR5 4,800MHz memory
Nvidia RTX 6000 Ada Gen GPU (48 GB)
2 TB Samsung PM9A1 SSD
Microsoft Windows 11 Pro for workstations
---
CPU workflows
The ThinkStation P7 is built around the new workstation-specific Intel Xeon W-3400 Series processors, supporting up to 56-cores in a single socket. While it can't match the ThinkStation PX for number of cores, the Intel Xeon W-3400 boasts higher Turbo clock speeds, so will outperform the ThinkStation PX in general system operations and in workflows that can't take advantage of more than 56-cores.
CAD is a classic single threaded application and in Solidworks 2022 the ThinkStation P7 had a clear lead over the PX in everything but rendering. This lead also extended to reality modelling in MetaShape Pro (photogrammetry) and Leica Cyclone 360 (point cloud processing).
But in such single threaded or lightly threaded workflows, the ThinkStation P7 can't hit the same heights as Lenovo's mainstream workstations. The Lenovo ThinkStation P360 Ultra with 12th Gen Intel Core i9-12900K outperformed the ThinkStation P7 by a considerable margin. And this lead should grow even bigger with the P360 Ultra's successor, the ThinkStation P3 Ultra, which features 13th Gen Intel Core processors.
But CAD users — at least those who only use CAD — are not really the intended audience for Lenovo's 'Sapphire Rapids' workstations. The real beneficiaries will be those that have workflows that either benefit from a) lots of cores, such as ray trace rendering or simulation, b) from high memory bandwidth, such as Computational Fluid Dynamics (CFD), or c) just use colossal datasets that need lots of memory.
Of course, these are also workflows that are ideal for the AMD Ryzen Threadripper Pro 5000WX Series, the processor at the heart of the Lenovo ThinkStation P620.
While we don't have benchmark figures for that specific machine, we do have them for another 64-core AMD Ryzen Threadripper Pro 5995WX-based workstation, the Scan 3XS GWP-ME A1128T workstation (read our review).
---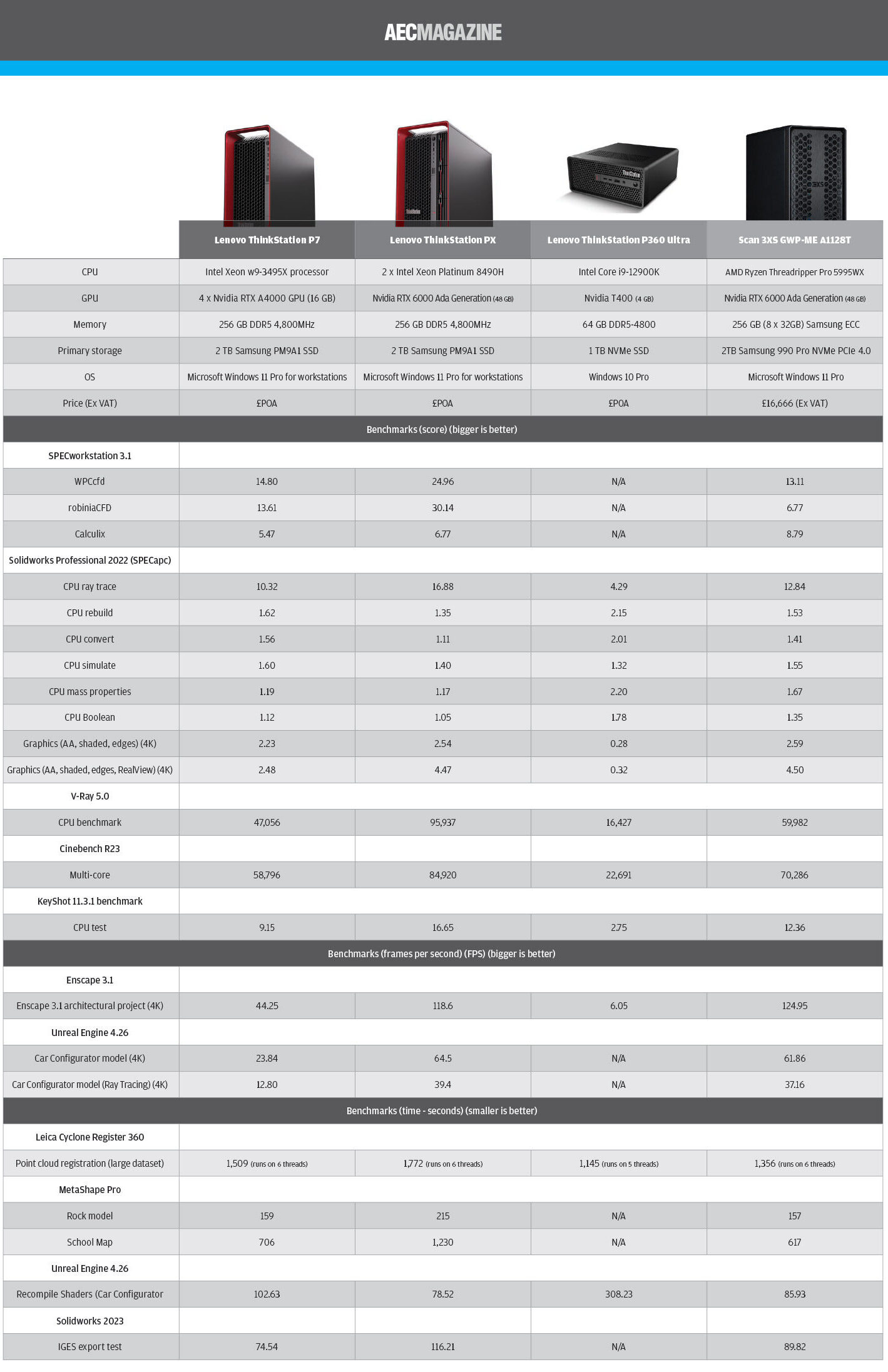 ---
We found the Scan workstation (64-core Threadripper Pro 5995WX) outperformed the ThinkStation P7 (56-core Xeon w9-3495X) in all of our rendering benchmarks – V-Ray, KeyShot, Blender and Cinebench. Here the additional eight cores and higher all-core frequencies appear to make a big difference. In Cinebench for example, Scan's Threadripper Pro 5995WX maintained a 3.05 GHz Turbo, while Lenovo's Xeon w9-3495X peaked at 2.54 GHz. Of course, frequencies cannot be compared directly, as both processors deliver different Instructions Per Clock (IPC).
There was a different story with Computational Fluid Dynamics (CFD), testing the WPCcfd and rodiniaCFD workloads in the SPECworkstation 3.1 benchmark. The ThinkStation P7 had a small lead with WPCcfd and a substantial lead with rodiniaCFD. Here, we think Sapphire Rapids' superior memory bandwidth gives it an advantage as it is able to feed its cores much quicker. While both AMD and Intel processors feature 8-channel memory, Intel has DDR5 4,800MHz which is much faster.
As one might expect, with 120 cores to play with, the ThinkStation PX had quite a considerable lead in both our rendering and CFD benchmarks.
We explore 'Sapphire Rapids vs Threadripper Pro' in more detail in this in-depth article.
---
GPU workflows
Of course, the ThinkStation P7 and PX offer much more than just 'Sapphire Rapids' processors. They can also host multiple high-performance Nvidia pro GPUs, up to the Nvidia RTX 6000 Ada Generation (read our review).
The main difference between the two machines is that the PX can support four double height GPUs or eight single height GPUs, whereas the ThinkStation P7 can support three double height or six single height.
Our ThinkStation PX came loaded with a single Nvidia RTX 6000 Ada Generation GPU. This is an incredibly powerful GPU for pro viz workflows with 48 GB of memory to handle colossal datasets. We got incredibly smooth graphics in our real-time viz tests with very high frame rates at 4K resolution in Enscape (118 FPS) and in Unreal Engine with the Audi Car Configurator model (64.5 FPS / 39.4 FPS with Ray tracing disabled / enabled).
Not surprisingly, it also delivered incredible scores in our GPU ray tracing benchmarks (KeyShot, V-Ray and, Blender). To provide some context of what this might mean for day-to-day workflows, in Solidworks Visualize with the 3ds Stellar rendering engine it finished a 4K resolution 1,000 pass render in 81 seconds and a 100-pass render with denoising in a mere 8 seconds. In KeyShot, with denoising enabled, it rendered our bike scene at 8K resolution with 128 samples in 24 secs.
The ThinkStation P7 was configured rather differently, with four Nvidia RTX A4000 GPUs, each with 16 GB of memory. The obvious use case for this setup is virtualisation where the ThinkStation P7 could be carved up into four Virtual Machines (VMs) each with their own dedicated GPU.
The four GPUs could also be put to work in a single workstation, and we found enough collective power there to edge out a single Nvidia RTX 6000 Ada Generation in V-Ray, even though the Nvidia RTX A4000 is built on Nvidia's older 'Ampere' architecture. With the Nvidia RTX 4000 Ada Generation GPU, which should launch later this year, we would expect a considerable performance uplift, probably more memory per GPU, and four GPUs to still cost less than a single Nvidia RTX 6000 Ada.
Of course, in a single workstation setup there are two big downsides to spreading all that GPU power across multiple boards – a) you'll mostly only be able to harness the power of one of those GPUs for real-time visualisation, and b) the size of datasets will be limited by the memory capacity of a single board.
---
Conclusion
Lenovo has done an incredible job with its 'Sapphire Rapids' workstations. The aesthetic design, functional design and build quality of the ThinkStation P7 and (in particular) the ThinkStation PX, is simply incredible. Partnerships with leading brands often feel very surface level, but the one with Aston Martin seems to have added real value.
The big question for many AEC firms is whether 'Sapphire Rapids' is the right workstation platform for them? Or might they be better off with AMD Ryzen Threadripper Pro, available in the Lenovo ThinkStation P620.
Much of this depends on workflows. Our tests show that the ThinkStation P7 with 56-core Intel Xeon w9-3495X wins out in single threaded software, such as CAD, and those that are typically heavily bottlenecked by memory bandwidth such as CFD. But the 64-core Threadripper Pro 5995WX offers significantly better performance for rendering, thanks in part to its additional eight cores.
Meanwhile, the ThinkStation PX with its dual Intel Xeon Platinum 8490H processors sits top of tree in all our highly multi-threaded tests, but at $17,000 per processor it feels the market for this level of performance will be quite limited. Plus, you must take a substantial hit in single threaded workflows.
Of course, 'Sapphire Rapids' for Lenovo's workstations is not just about these top-end processors. For the ThinkStation P7, Lenovo offers a total of seven Intel Xeon W-3400 processors, ranging from 12 to 56 cores, compared to five for the Threadripper Pro 5000 WX-Series, so customers may find sweet spots where Intel wins out on price/performance.
The options for the ThinkStation PX feel more limited, with lower core Intel Xeon Scalable processors competing with higher core count Intel Xeon W-3400 Series processors in the ThinkStation P7. Such configs may become more attractive when customers want to load up the workstation with four double height GPUs and don't necessarily need tonnes of CPU performance.
Finally, it's important to state that the ThinkStation P7 and PX are much more than just desktop workstations. By making them easily rack mountable, and offering server grade remote management and serviceability, they also give AEC firms the flexibility to support staff wherever they need to work.
Importantly, Lenovo's 'hybrid cloud workstation' approach means AEC firms can manage the transition to hybrid working at their own pace, without having to jump in with both feet when investing in a centralised datacentre workstation resource.
Learn more about Sapphire Rapids in our in-depth article
---
Scroll down to read and subscribe here
Featuring